9 Fascinating Things to Do in Cappadocia (and 3 not to bother with!)
Published on 11 October 2023
Cappadocia has some of the most bizarre and unique, yet breath-taking landscapes, and because of this, hot air ballooning is wildly popular: I'm sure you've seen the iconic sunrise photos with the skies teeming with colourful hot air balloons.
While the balloons and sunrise photos really are stunning, there is also so much more to Cappadocia to be explored. Wander the narrow paths of an ancient underground city, hike through valleys with otherworldly rock formations, seek out tea shops in the most obscure locations, climb into abandoned cave churches with ancient yet vibrant artwork, discover historic castles carved out of volcanic rock.
Cappadocia is brimming with mysterious beauty and history; you'll be standing in awe. It has to be one of our favourite destinations that we have explored thanks to its uniqueness and variety of different attractions. This guide gives you the top things to do in Cappadocia beyond the hot air balloons and typical social media tourism, as well as the things that are really not worth your time or money.
9 Fascinating Things to Do in Cappadocia (and 3 not to bother with!)
History of Cappadocia and its Cave Structures
Cappadocia was a highly volcanic area millions of years ago. After volcanic eruptions left a layer of ash over the region, it solidified into soft volcanic rock known as tuff. Over time, general weathering and erosion took place and left the region with the bizarre, otherworldly rock formations that attract visitors far and wide.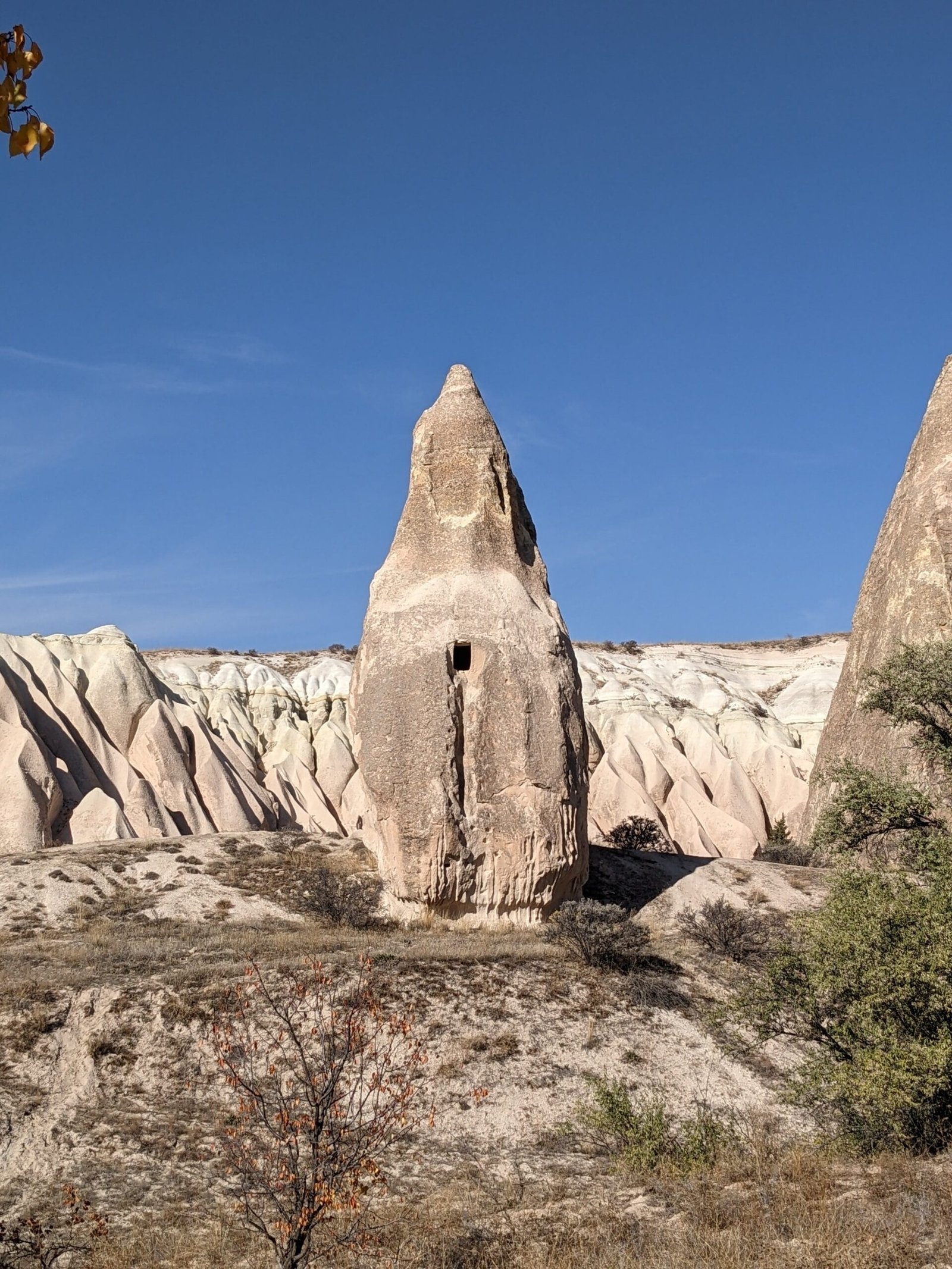 Originally known as Hatti as far back as the Bronze Age, modern day Cappadocia was the homeland of the Hittite empire. When the Hittite empire dissolved in the 6th century BC, the region was then run by the Roman Empire. The population of Cappadocia were Greek speaking Christians, hence the Orthodox Christian paintings inside the cave churches throughout the region. To avoid persecution during wars and Ottoman rule, underground cities such as Derinkuyu were built to hide and protect the population.
In 1923, Turkey expelled its Christian population to Greece, leaving the underground cities, cave churches and dwellings in fairy chimneys abandoned and unknown.
Where to Base Yourself in Cappadocia
Goreme is the main spot where tourists stay. It is in a great location within walking distance to many valleys, museums and a bus ride away from the underground cities of Derinkuyu and Kaymakli. There are restaurants, shops, ATMs, a small bus station and tour agencies. Goreme is where we would recommend you stay.
For a more authentic feel, you could base yourself in Uchisar. However, it's quite a walk away from a lot of the valleys and museums. Uchisar is a really pretty town set up on a hill with a cave castle right at the top. There are restaurants, shops etc. however, when we visited in November, there was very little open and very little going on.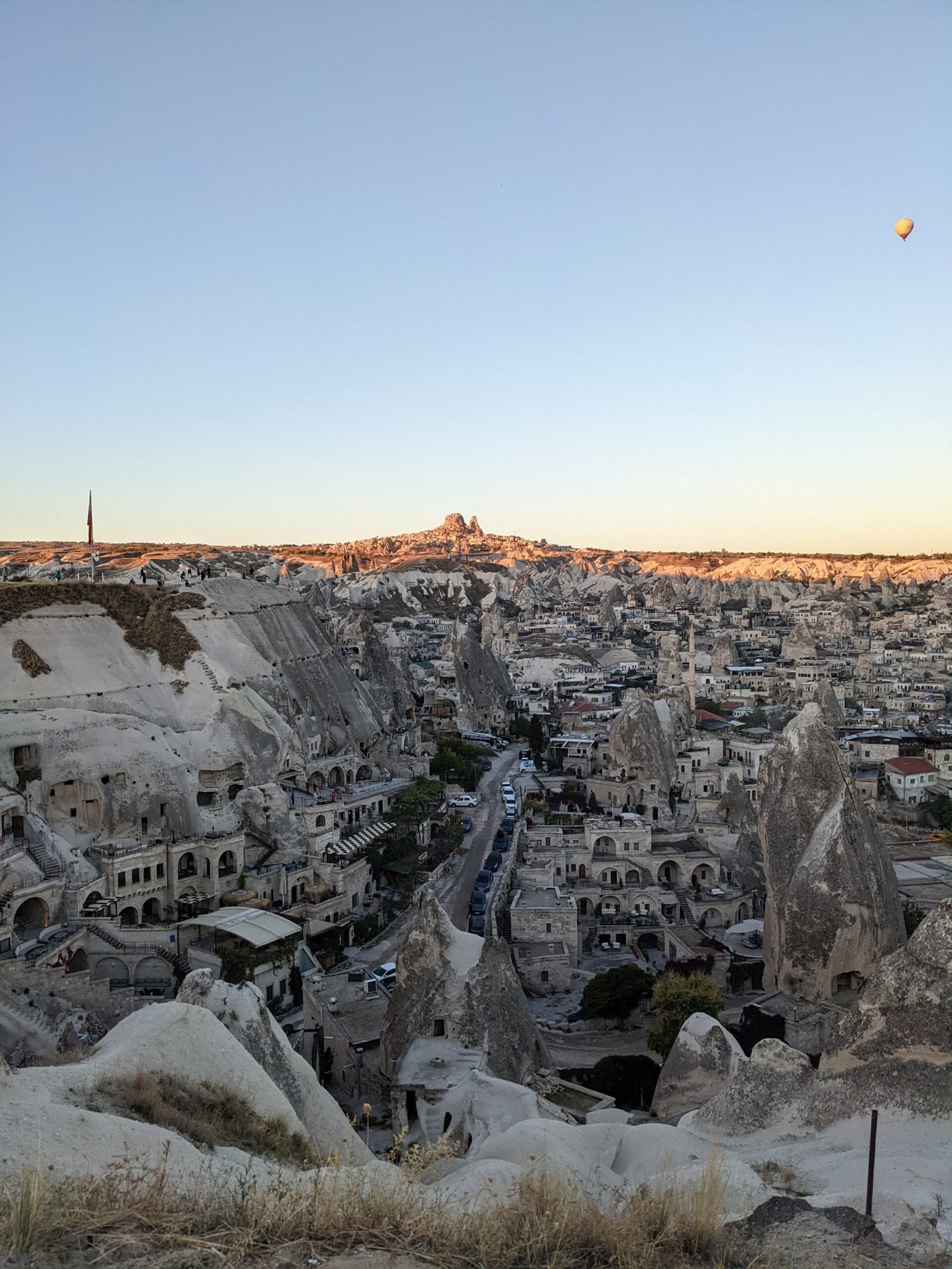 How to Get to Goreme
Cappadocia is the name of a large region in the centre of Turkey, while Goreme is a small town within Cappadocia.
Goreme is serviced by several buses, but if you are unable to find a bus there, take a bus to neraby Nevsehir or Kayseri from which you can easily get a local bus or taxi transfer into Goreme.
Bus journeys to Goreme are long if you're coming from other major tourists destinations in Turkey. Gaziantep to Nevsehir is a seven hour journey. Istanbul to Goreme can take up to ten hours. Cappadocia is a long old way away in the centre of the country.
If a bus journey isn't for you (I get it!), there are regular domestic flights to Kayseri airport (ASR). Flights are pretty inexpensive – you can get tickets from about £20 from Istanbul to Kayseri one way – and it'll be much quicker, about ninety minutes.
Buses we got in and out of Goreme/Nevsehir:
Denizli (near Pamukkale) to Goreme night bus: cost 320 TL and took ten hours, leaving Denizli at 21:30. Bus company is Kamil Koc, known as Flix Bus in other countries.
Goreme to Nevsehir city centre: cost 13 TL and took 20 minutes, buses leave Goreme every 30 minutes. The schedule is on a board at the bus stop, so take a quick look before making your plans. When you get on this bus, let the driver know your final destination and he will show you where to get the connecting bus from. The drivers are really helpful.
Nevsehir city centre to Nevsehir bus station: cost 6 TL and took around 15 minutes. Jump on a local bus #1 or #2 and ask for the otogar (bus station).
Nevsehir city centre to Derinkuyu: cost 30 TL and took 25 minutes, leaving Nevsehir city centre every 30 minutes.
Nevsehir bus station to Gaziantep: cost 300 TL and took around seven hours, leaving Nevsehir at 09:00. Bus company is Nevsehir Seyahat.
Things to Do in Cappadocia
Head Underground to Explore the Lost City of Derinkuyu
Derinkuyu is the largest excavated underground city in Turkey located a thirty/forty minute bus ride out of Goreme. Used as housing and protection for persecuted Christians during wars, Mongolian invasions and Ottoman rule, Derinkuyu held up to 20,000 people. There are secret passageways, wine and oil presses, churches, wells, ventilation shafts. They had everything covered to sustain life underground and protect themselves in case of enemy discovery.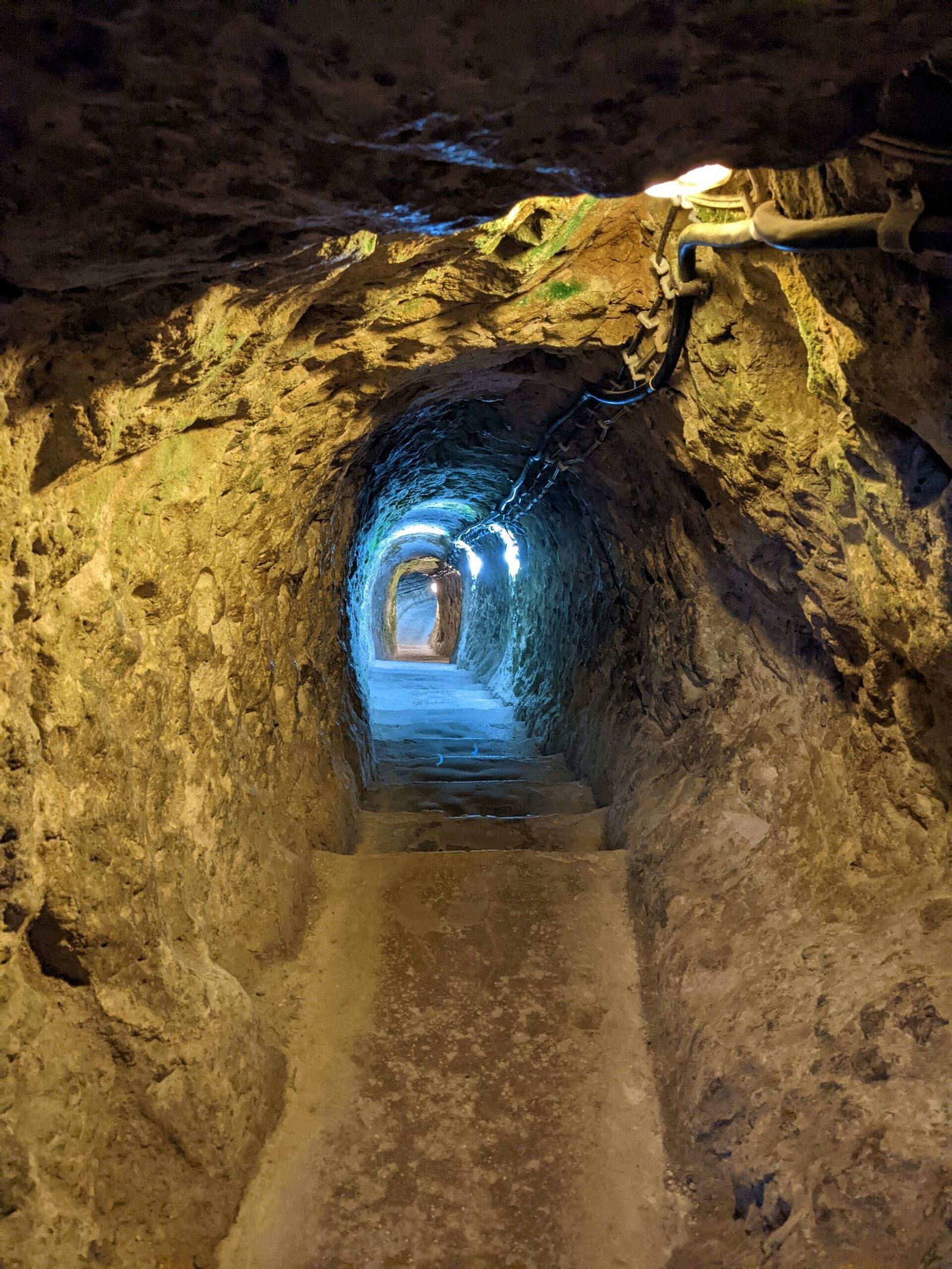 Red Valley and Rose Valley Day Hike
Discover Red Valley's Adventurous Hiking Routes
So-called for the valley rock with a red/terracotta hue, the hiking routes through Red Valley were some of the most varied and intriguing. Find narrow paths, dodgy-looking staircases, and cave tunnels. Red Valley will keep you guessing at every turn.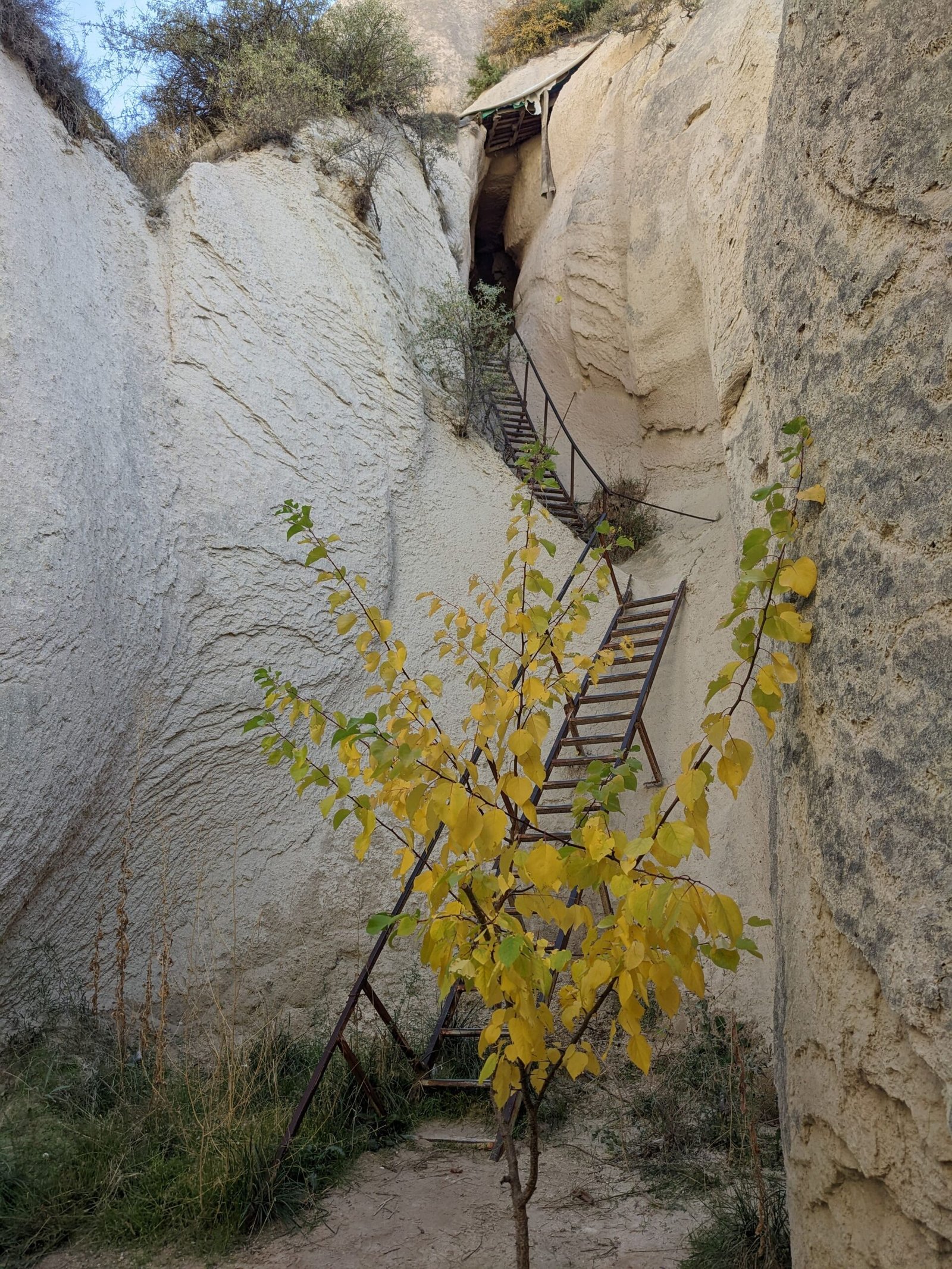 Venture into Abandoned Cave Churches in Rose Valley
Another valley named after the rock colour. The pink rock also has some sections of yellow, which was fascinating. Rose Valley is full of breath-taking viewpoints and the most stunning abandoned cave churches full of brightly coloured artwork and mind-blowing structural elements.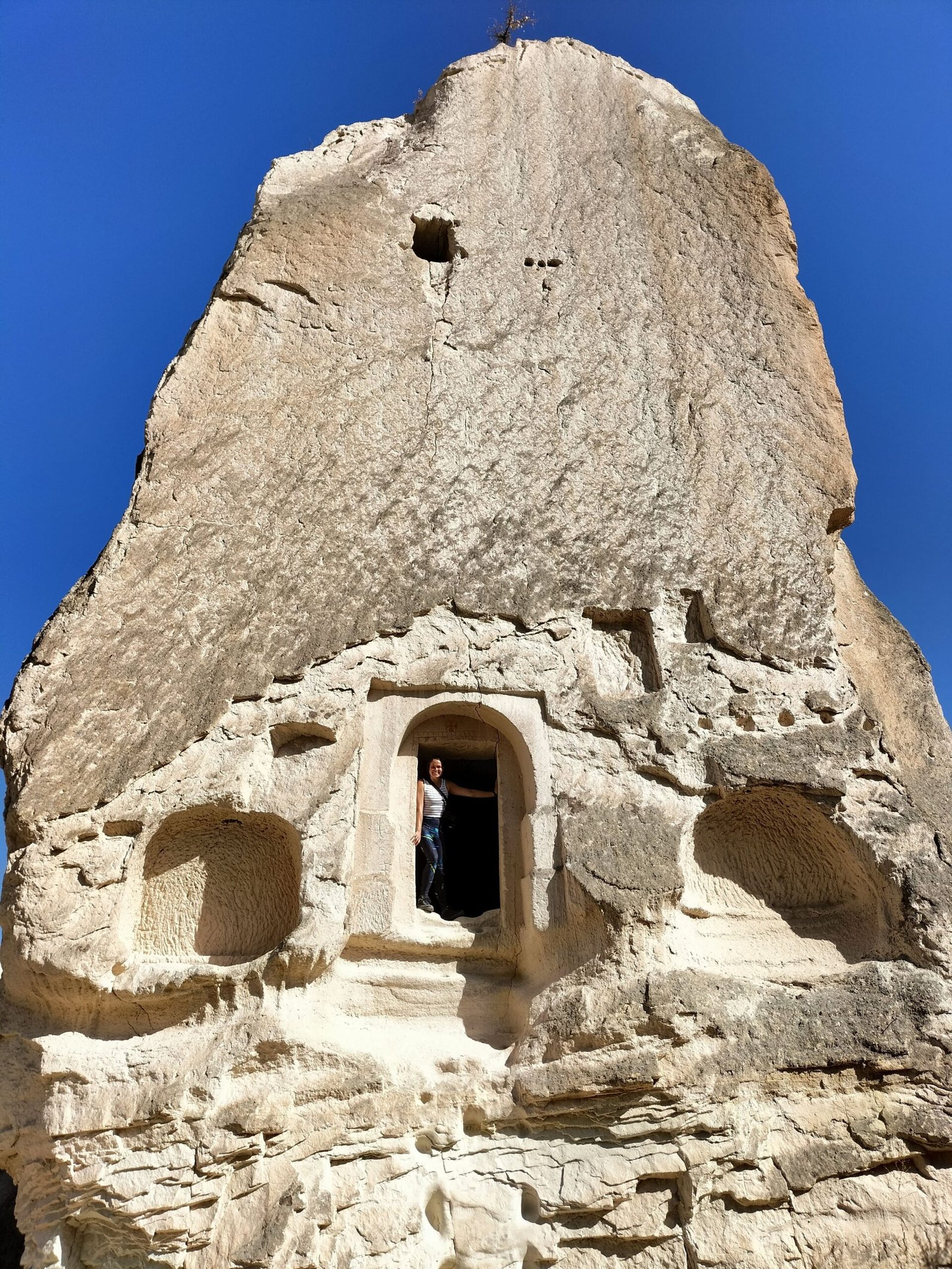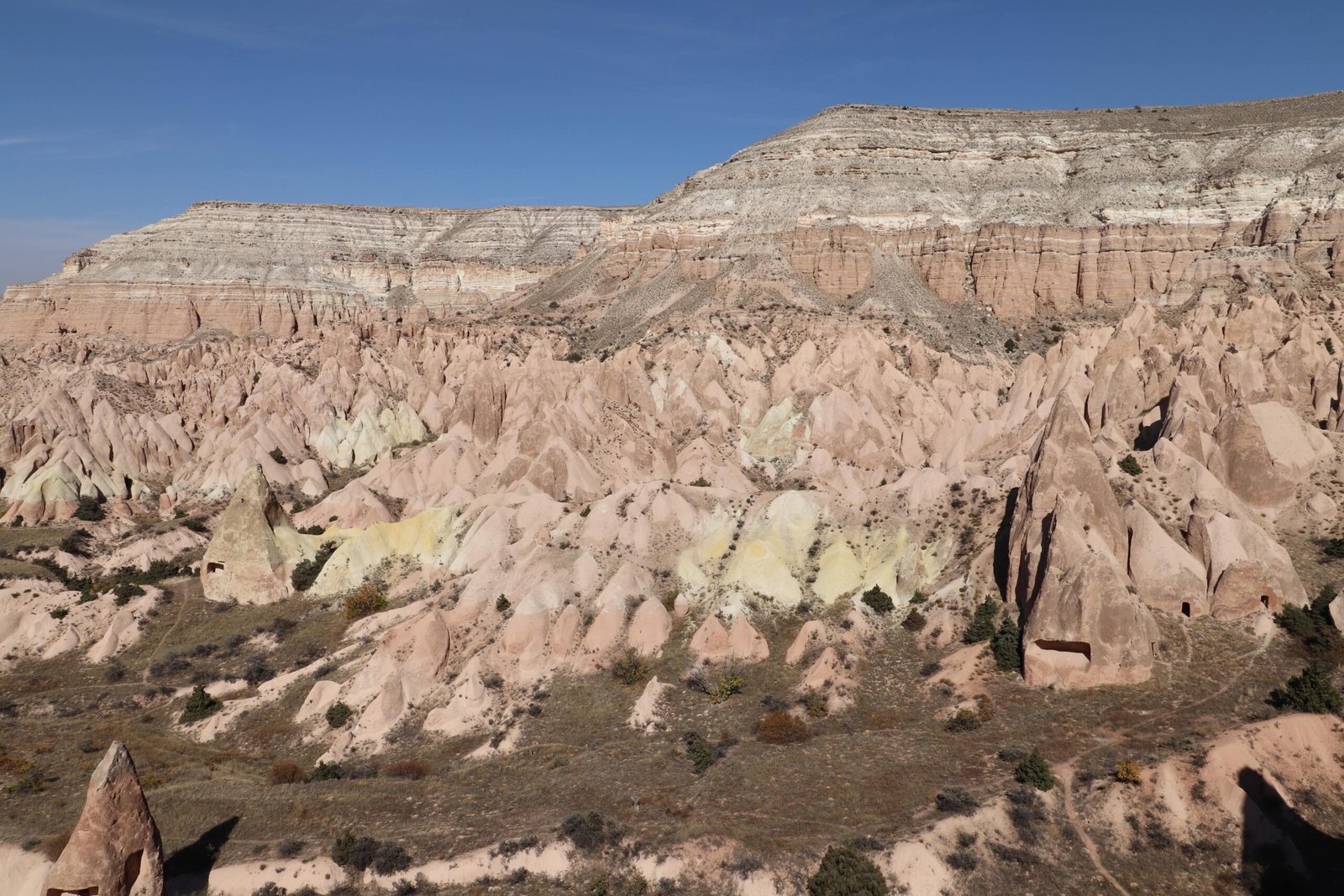 Explore Red Valley and Rose Valley together for the ultimate day hike of fascinating hiking trails, stunning viewpoints and abandoned cave church exploration. Detailed blog post with Maps.me pins coming soon!
Love Valley, White Valley, Pigeon Valley Day Hike
Be Amazed by the Bizarre Fairy Chimneys of Love Valley
This is the one that you have no doubt seen photos of. Huge phallic-shaped structures (named fairy chimneys), up to 40 metres tall, can be seen throughout the valley. Wander amongst them and/or watch sunset looking over Love Valley.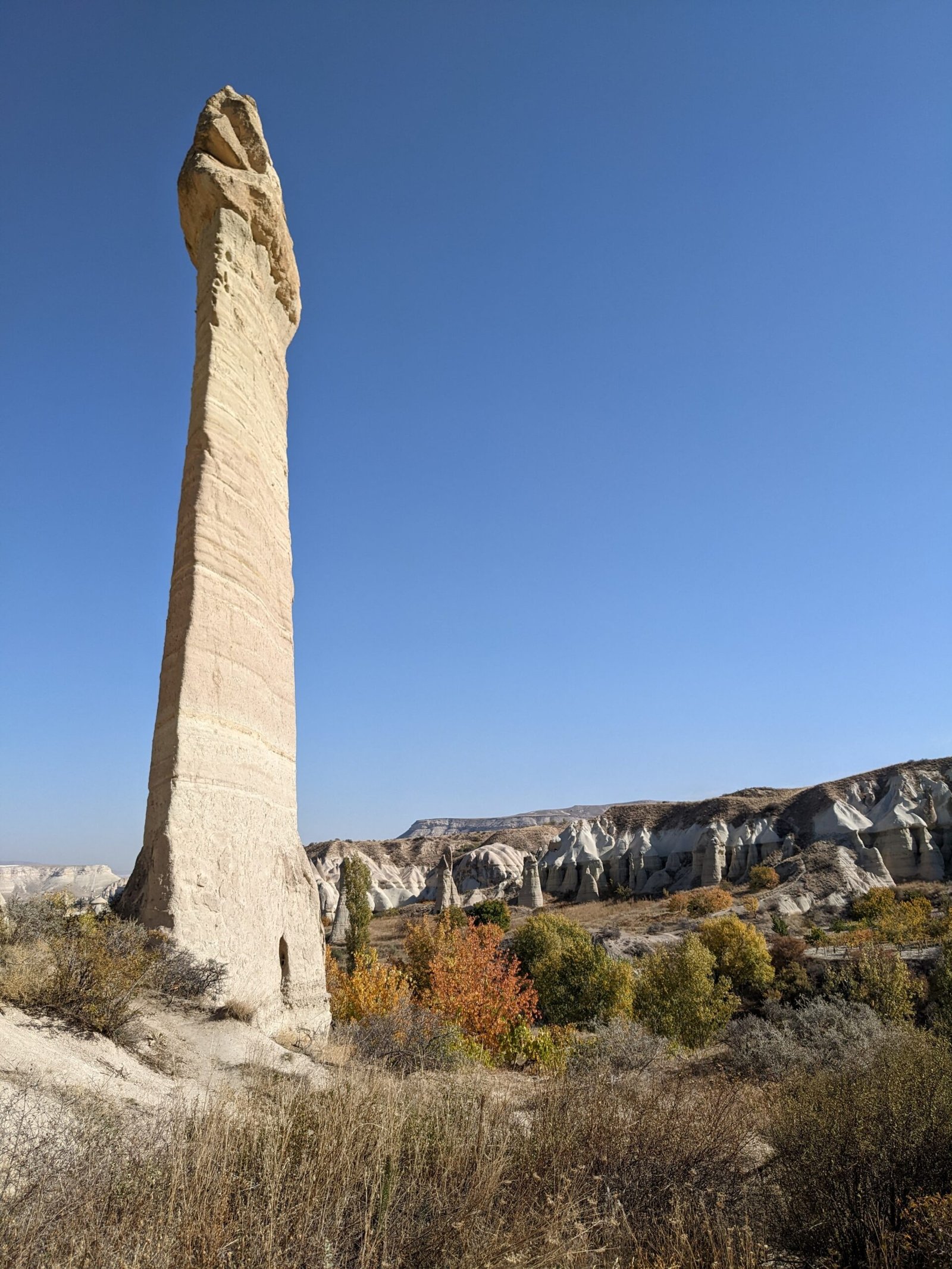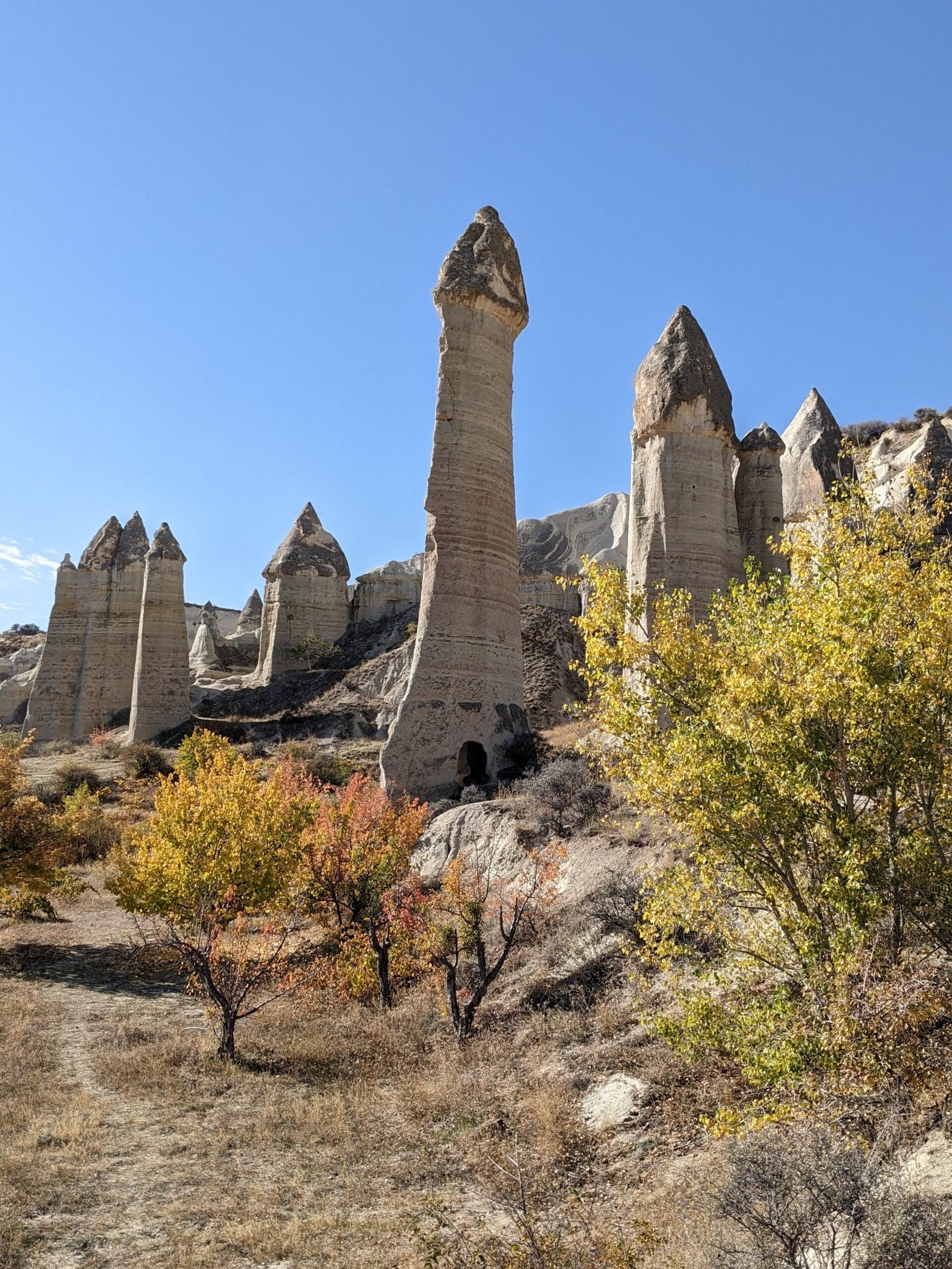 Hike White Valley
The hiking path through White Valley is not on the floor, but up on the white rock that spans this valley from its base to the valley edges. There are less unusual rock formations, but it's a fascinating hike nonetheless.
Wander Guvecinlik Valley AKA Pigeon Valley
This valley gained its name for the large amount of dovecotes found carved into the rock face, a hike through Pigeon Valley is a highlight on any Cappadocia itinerary. Follow the route down into the valley to the most spectacular viewpoint before heading up and over the valley to see it from a different perspective. Make sure you stop for a cup of tea at the most unique tea garden set into the rock face.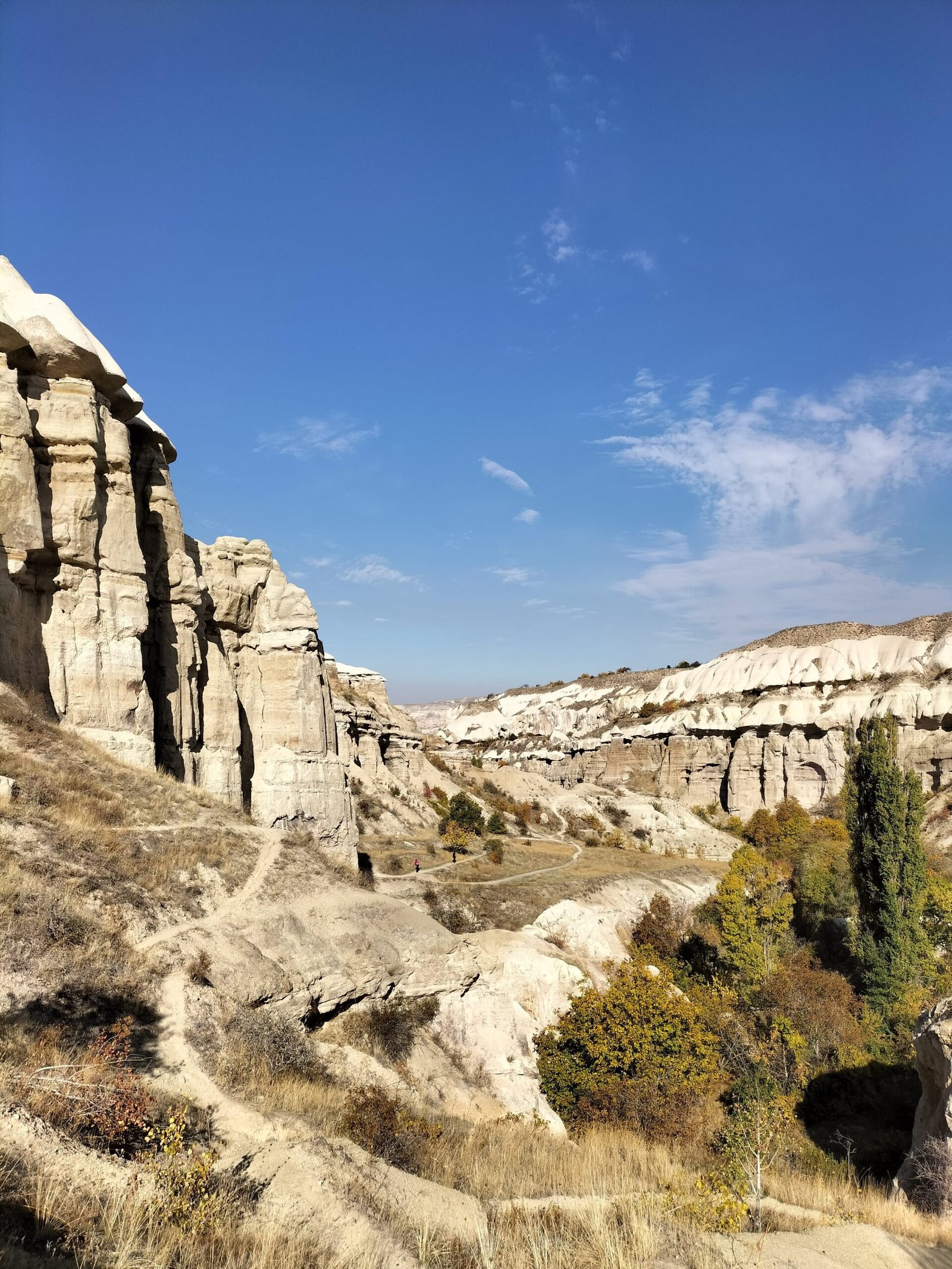 Hike Love Valley, White Valley, explore Uchisar Castle and hike back to Goreme through Pigeon Valley all in one day. Blog post with full detail of the hike and Maps.me pins coming soon!
Uncover Cappadocia's Best Viewpoint from Uchisar Castle
Uchisar Castle is right at the top of the town. At the highest point in Cappadocia, this castle can be seen from almost everywhere. Unfortunately, there is little information inside the castle as to its history, but it is still a fascinating structure to explore. Rooms were carved into the soft volcanic tuff and the outside has started to erode away revealing the honeycomb-like structure inside. Venture all the way to the top for truly spectacular views across the valleys. Entrance is 50 TL and is not included on the Museum Pass.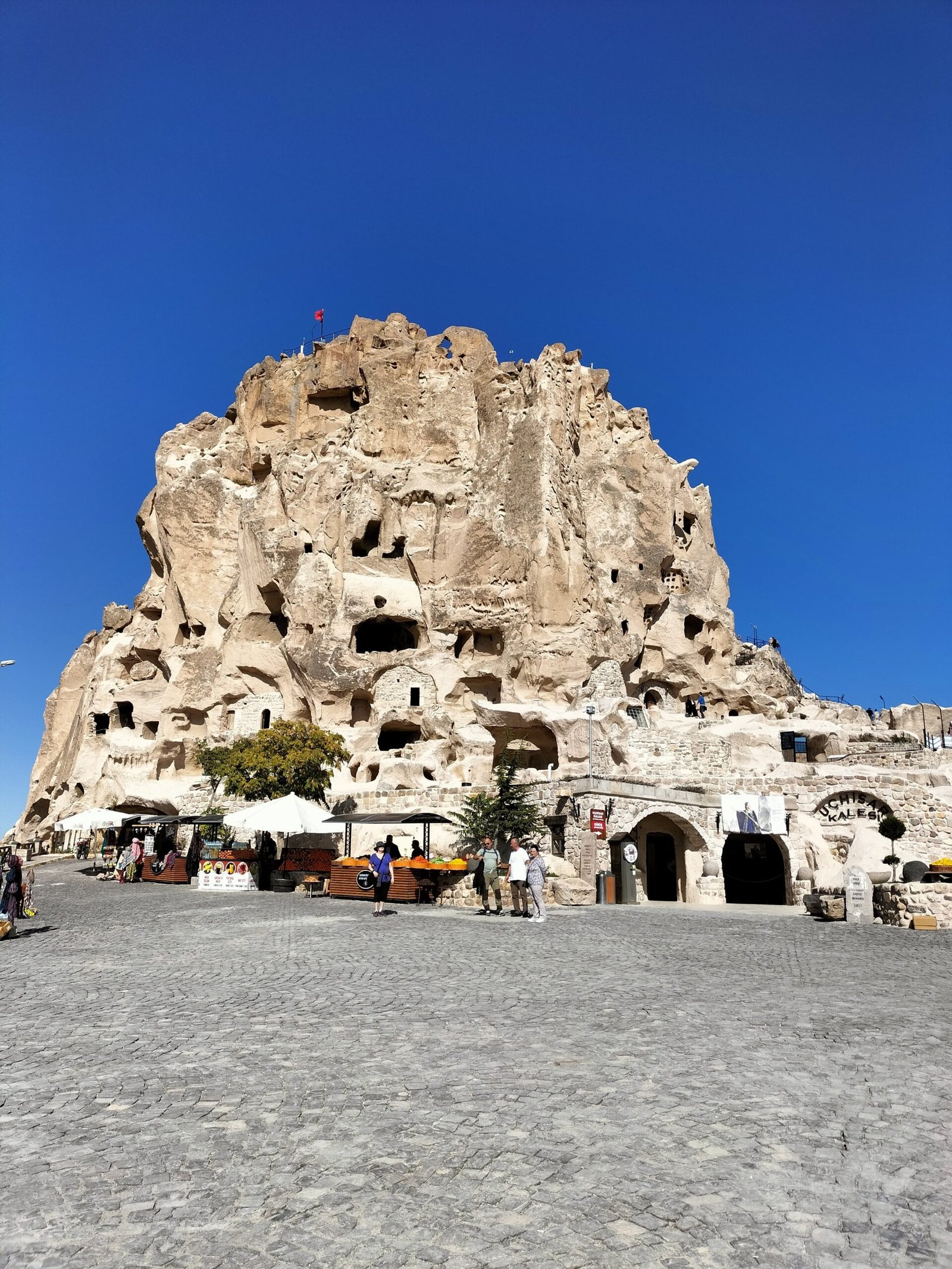 Wander Swords Valley
Close to Goreme Open Air Museum, Swords Valley is a less visited valley compared to the likes of the big players – love, red, etc. Named Swords Valley because the fairy chimneys here look like sharp swords, you could spend a couple of hours exploring, wandering into abandoned dwellings and churches, many of which have stunning views over the valley.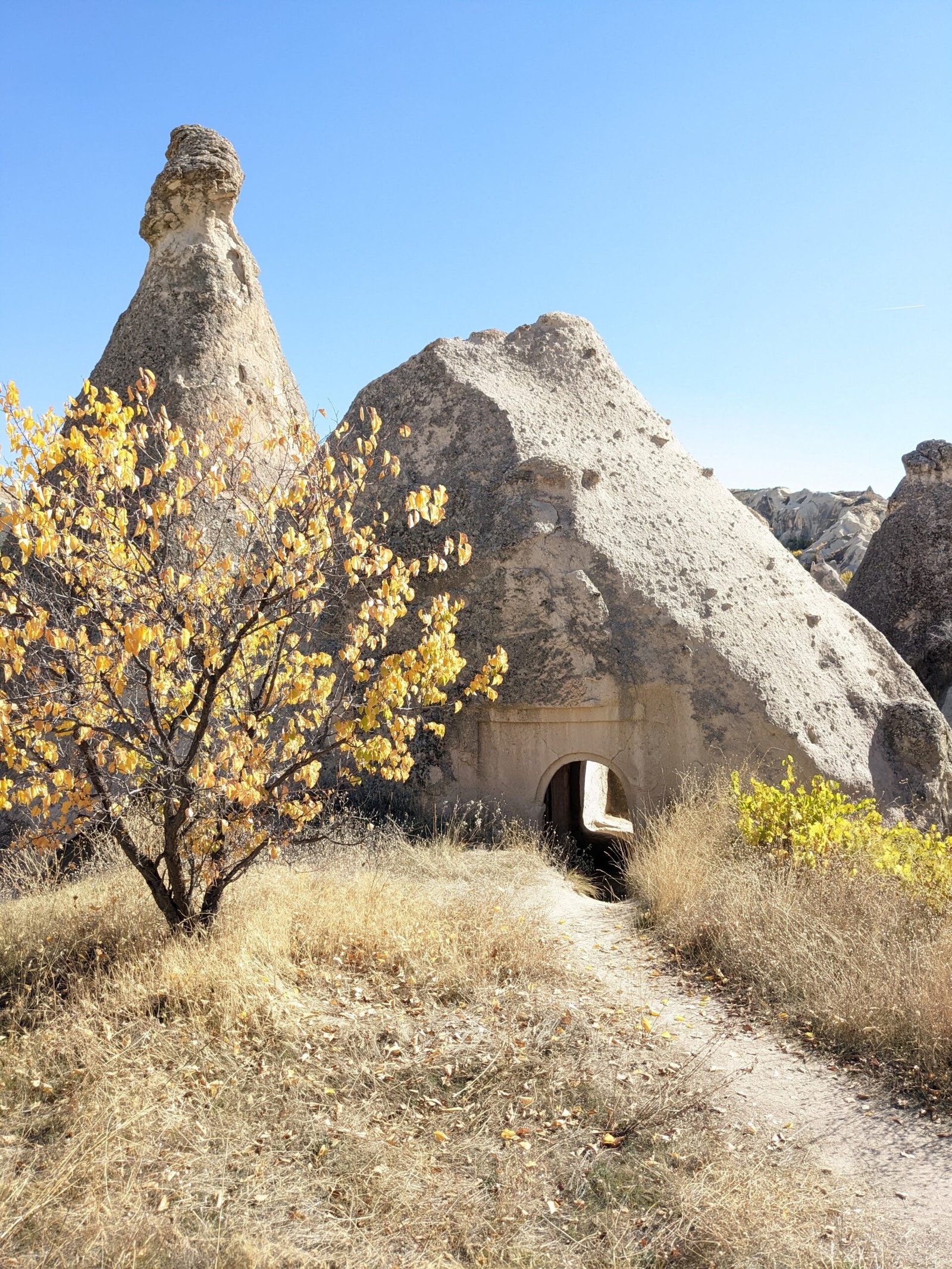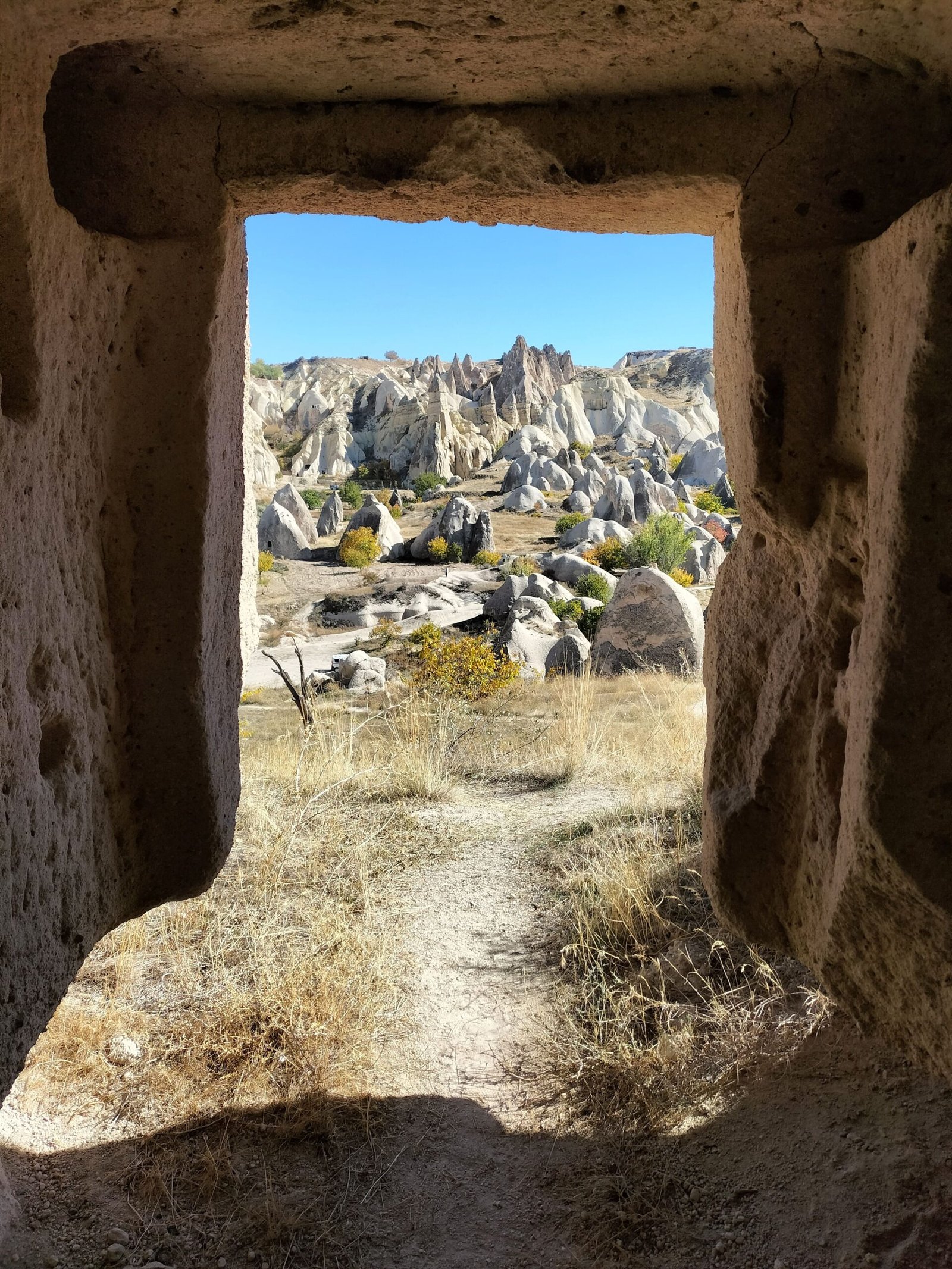 We didn't really rate many of the restaurants in Goreme. They seem to be overpriced and cater to holiday-goers throwing money around. However, the food at Goreme Han is something special. Our friends we met while hiking Kotor in Montenegro recommended the place. Also a vegetarian couple manoeuvring meat-heavy Turkey and the Balkans, we trusted their advice. Ooh, they were right. Try the vegetable pottery and the beans. Served in clay pottery, the food sizzles theatrically at the table. Use hunks of bread to mop up the juices and wash it all down with the endless complimentary tea. Lovely.
Things You Shouldn't Do
Go on an ATV Tour
Cappadocia is a semi-arid landscape, meaning that a lot of the land is very dry, dusty and sandy. There is nothing worse than walking down the road when a tour of ATVers is coming at you. You won't be able to breathe for a good while til all the dust and crap that's been kicked up into the air settles. Also, the ATVs erode the soft volcanic rock meaning that they are causing destruction to the natural landscape. Give it a miss. Don your hiking boots and head out on foot instead.
Pay for the Main Goreme Viewpoint
Sunset Viewpoint (Maps.me links can only be used in the Maps.me app on a mobile device)
What a scam. A guy has set up an official-looking toll booth, and charges every tourist that walks past in the morning before sunset. There are restaurants, cafes and accommodation further up the road, and the path beyond this is not maintained so it's not even like your fee is going into maintaining the viewpoint. Instead, head up to the viewpoint using this entrance point: There is even free parking!
Visit Goreme Open-Air Museum
We were so disappointed by this museum. There is an entrance fee of 150 TL plus an additional 50 TL for the Black Church which has intricate painting. The museum complex is pretty small, we went around everything within 30 minutes. There were tour group crowds, you had to queue to get into the cave churches, and it really wasn't half as spectacular as the abandoned churches we found in Rose Valley that had free entry. Skip the official museum and go exploring the valleys for yourself.
Have you been to Cappadocia? Or maybe you have other suggestions to add to the list?
I'd love to hear your thoughts, recommendations and questions.
Thanks for reading!