How to Visit Dracula's Castle: Brasov to Bran
Published on 20 September 2023
Built atop a rocky perch, Dracula's Castle (Bran Castle) stands tall with white brickwork, exposed beams and is topped with orange rooftiles and tall spires. You can see exactly why it has its associations with Dracula: it feels ominous and imposing, maybe even intimidating (or is that just psychological?). The castle evidently has plenty of stories to tell and has been associated with Romanian myths and legends. This really is an intriguing spot to add to your Romania itinerary.
We visited as a half-day trip from Brasov, and so have put together this guide of everything you need to know about a visit to Dracula's Castle.
How to Visit Dracula's Castle: Brasov to Bran
A Little of Bran Castle's Back Story
A castle has been on this site since early 1200s, however, the stone castle of Bran was built in the late 1300s. Used as a defence against the invading Ottomans and a checkpoint along a trade route, it wasn't until after the Austro-Hungarian rule in 1920, that the Romanian royalty were handed the property. Queen Marie was particularly fond of the castle and instigated renovations to bring it into the condition that we see today. Communism came in, the royal family were expelled, and their property taken. After the fall of communism, properties were redistributed to their rightful heirs and Bran Castle was turned into a museum.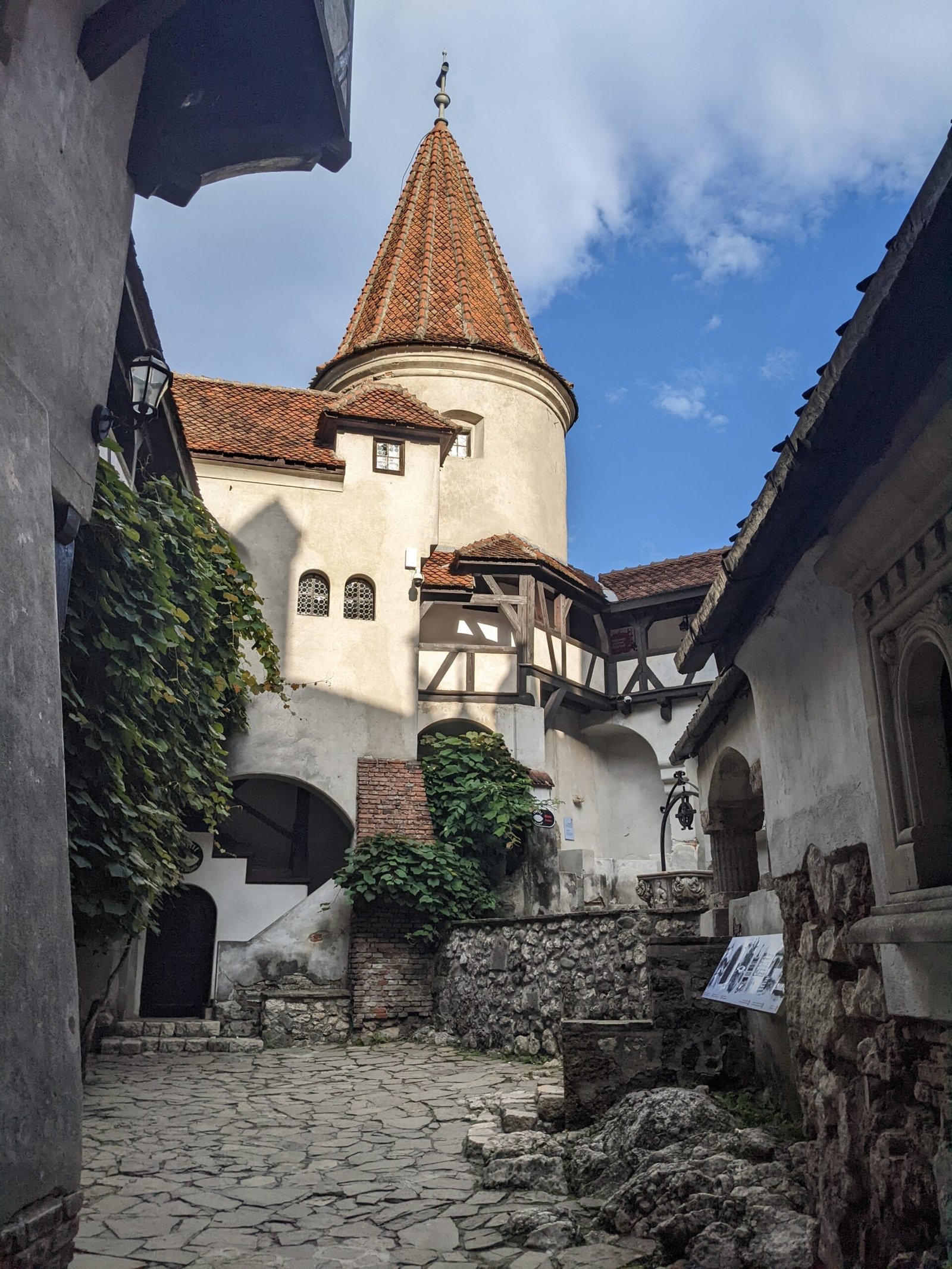 The beautifully photogenic courtyard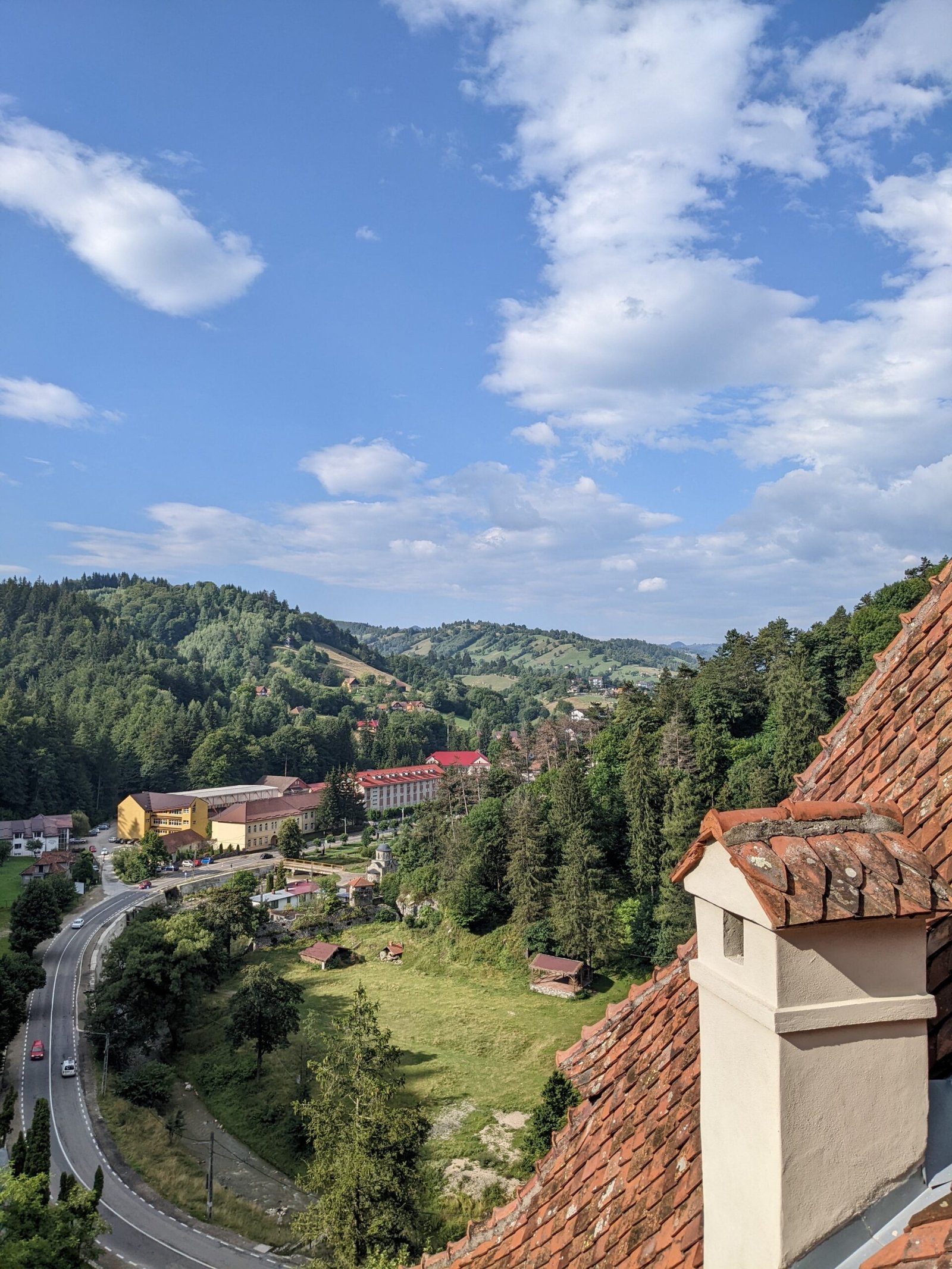 Did Dracula actually live here?
Ok, so first thing to clear up is that, quite upsettingly, this isn't actually anything to do with the fictional character from Bram Stoker's novel, Dracula. Fictional Dracula is very often mixed up with the very much real Vlad Tepes (or Vlad Dracul or Vlad the Impaler as you may know him) who was a ruler of the Wallachia region of Romania in the 1400s. Even fictional Dracula is not believed to have been set here. So it seems that the imposing castle is a place where people could picture Dracula living and so it stuck? Disappointing, eh? Nevertheless, the castle is an amazing piece of architecture with a museum inside dedicated to Queen Marie of Romania, that is worthy of a visit.
I want to suck your blood!
Where is the Castle?
Dracula's Castle or Bran Castle is located in the village of Bran in Transylvania, about 25km southwest of Brasov. It makes an easy day or even half-day trip from Brasov on a public bus that only takes about 50 minutes.
How do I get to Bran Castle from Brasov?
Head to Autogara 2 in Brasov city where a public bus leaves this station every half hour. You can't pay for your ticket in advance, so just turn up, jump on and pay 13 RON in cash to the driver. We got there about ten minutes early and were able to buy tickets and grab a seat without problems. It is a straight forward journey and will get you there in about 50 minutes. The bus will drop you right outside the castle entrance. Walk through the market stalls selling Dracula souvenirs and enter the castle. Maybe stop for a Turkish coffee cooked over sand by this guy.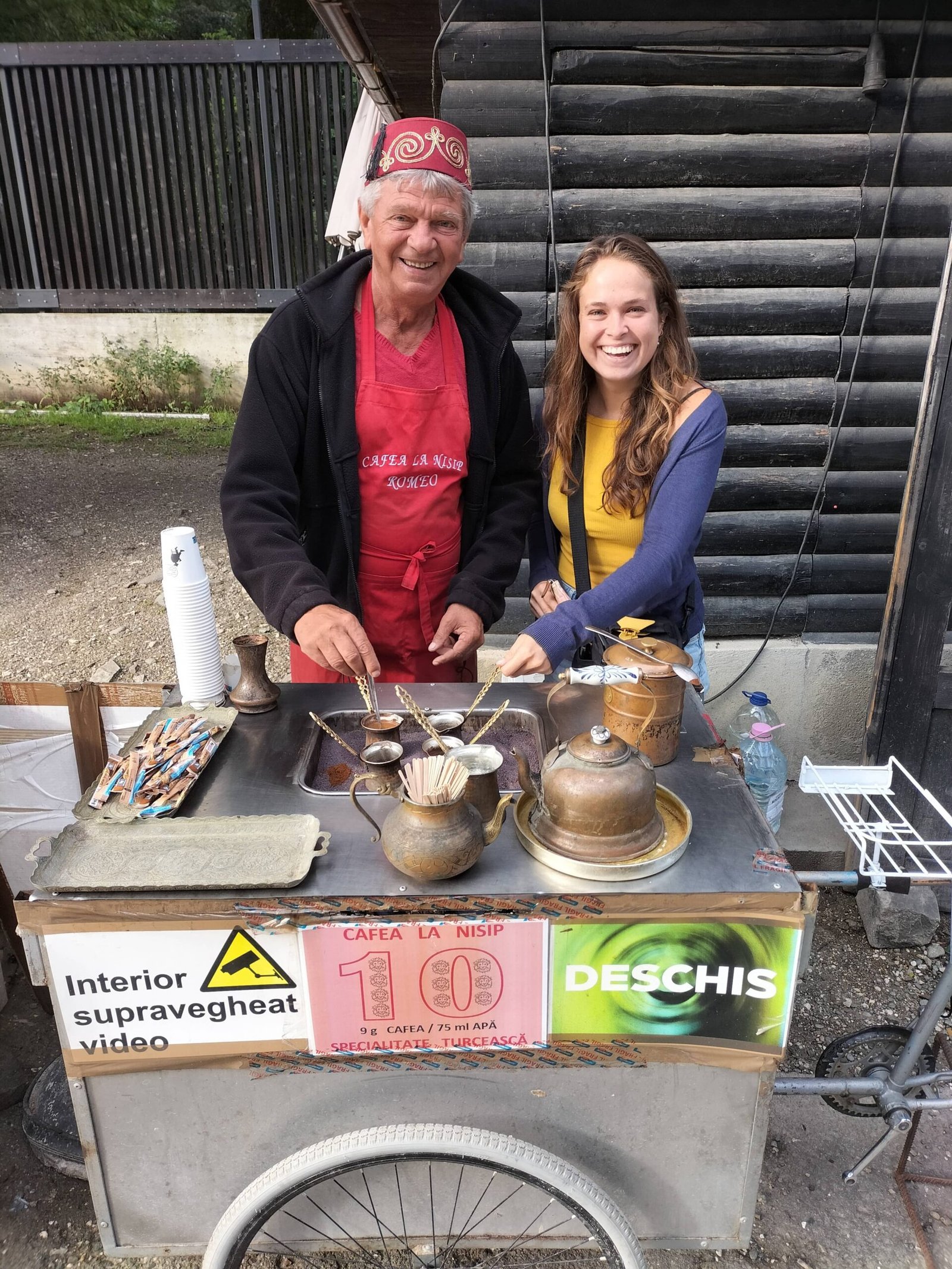 How much does it cost?
Tickets cost 45 RON, so they're pretty pricey for a backpacker budget. You buy your ticket at the gate and then have to scan the barcode when you enter the castle itself, so make sure you hold on to it until then. You can actually enter the grounds of the castle, wander round, have a picnic by the ponds, take photos of the castle etc. without paying any fee. It is only entering the castle that requires payment.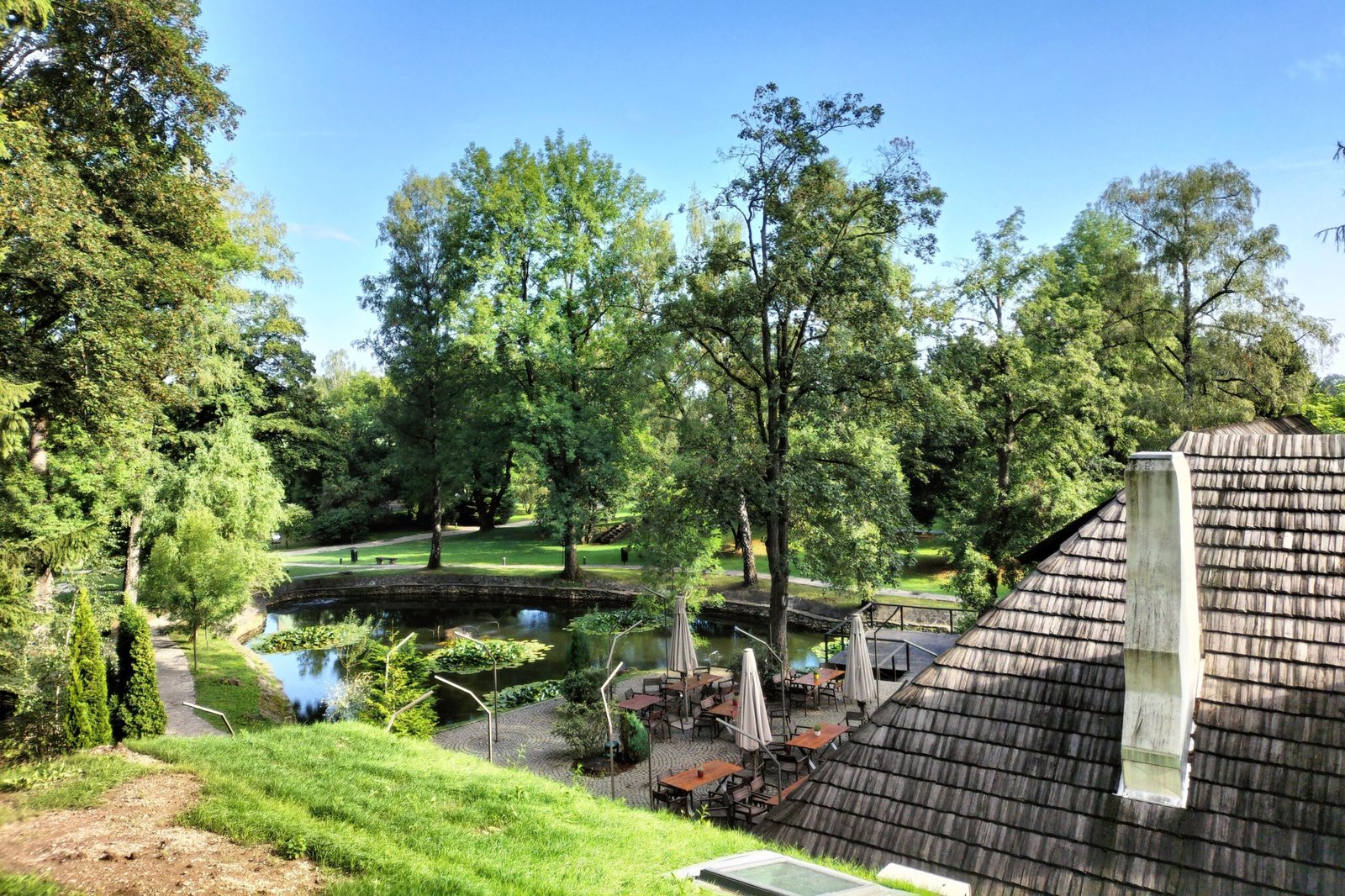 Is it worth paying to go inside?
It depends on your interests. As someone who really appreciates unique and historic architecture, I would say yes! You get to enter several rooms which have been laid out with traditional furniture and paintings etc. There are rooms that have more of a museum feel about them with information on the castle's history, Queen Marie and even Romanian folklore and legends. You get to climb the stairs through a secret passageway, stand out on the balcony for some great views of the surrounding area and the internal courtyard. When we visited Romania, I felt like it was something that I really wanted to do: it's probably Romania's biggest claim to fame around the world! I think it was worth the entrance fee.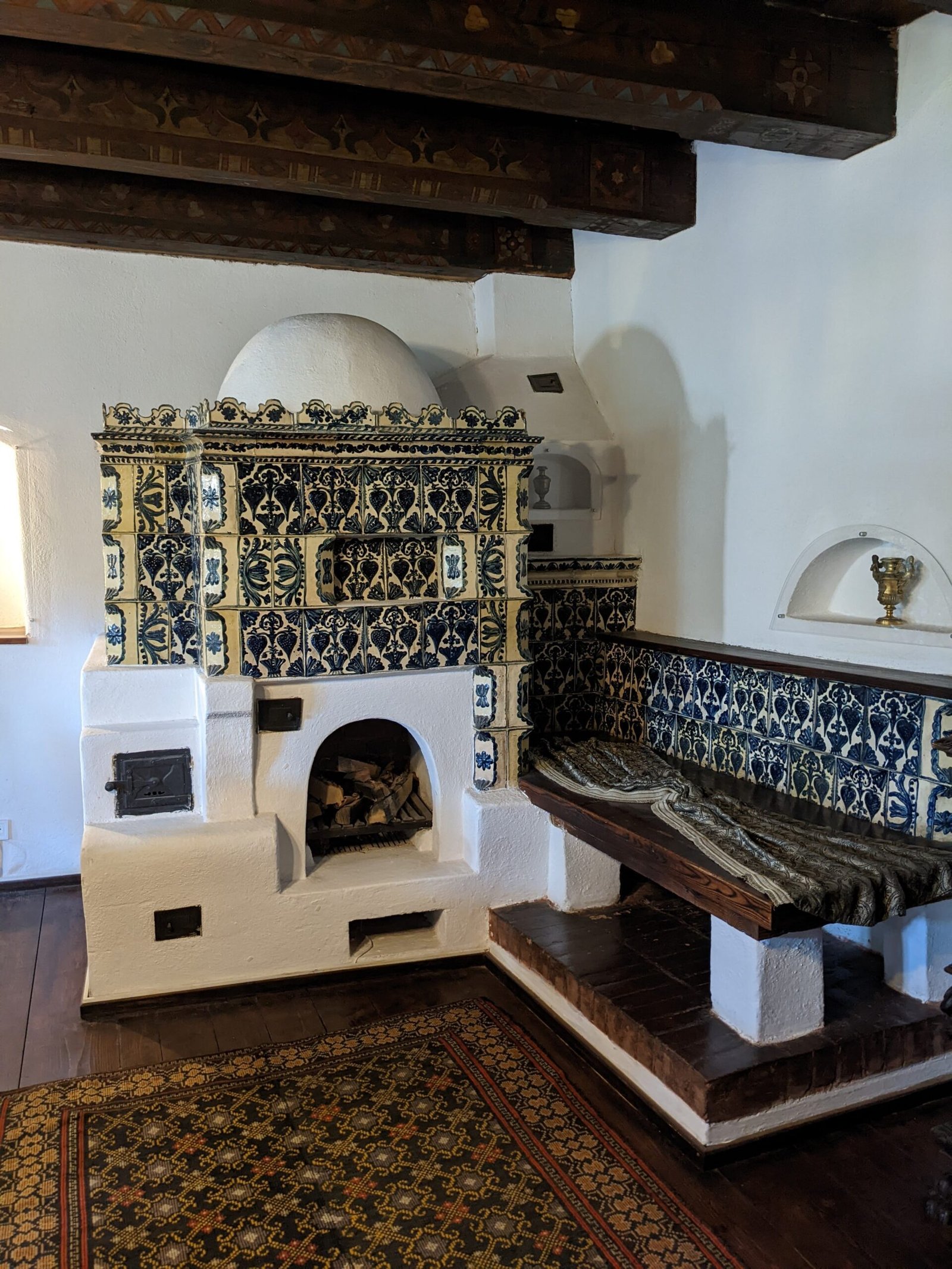 How long should you spend there?
We spent about an hour walking around the castle, reading the info on the exhibits and taking pictures. After visiting the castle, wander around the outside also. Maybe find a spot in the sunshine for a drink or a picnic.
Does it get busy?
Yes! Queuing to get into a tourist attraction is THE worst, however, there are some instances where it is necessary, and this is one of them. My advice is to get the first bus from Brasov that leaves at 8am to get you to the castle before the 9am opening. We arrived about ten minutes before opening and there were maybe twelve people waiting in the queue. Get in and visit the castle first as this is where the backlog of people is created. The secret passageway and stairwells are narrow so it could easily cause a queue. If we didn't arrive first thing, I probably would have struggled with the sheer amount of people.
How do I get back to Brasov?
Jump on the same bus on the other side of the road. The bus stop is right by a langos stand so you could always grab one of these while you're waiting. It's the same deal on the way back: you shouldn't have to wait more than 30 minutes.
Have you been to Bran Castle? Are there any other tips that you would add?
I'd love to hear your thoughts, recommendations or questions.
Thanks for reading!