Everything You Need to Know to Visit Pocitelj
Published on 16 August 2023
Crumbling and neglected, yet characterful. Time really has stood still here, and you get to have a glimpse into what life was like way back then. Pocitelj's charm is in its architecture, its deteriorating winding paths, its unkempt gardens with overgrown plants, its rickety staircases, its stunning views. A fine example of an open-air museum, Pocitelj intrigues with its medieval and Ottoman character. Wander back in time, feel its history and witness its beauty.
If you love street photography and architecture, like us, you will love Pocitelj: this was honestly one of my favourite spots in Bosnia and Herzegovina! And if you're making a trip to Mostar, take a half-day out to explore this fascinating place. Read my post on things to do in Mostar here.
This guide to exploring Pocitelj will give you all the info you need to plan your trip.
Everything You Need to Know to Visit Pocitelj
A Little Bit of History about Pocitelj
Pocitelj (Počitelj) is an open-air-museum town housing examples of Ottoman influence through its architecture. It was a town of great strategic importance during Ottoman times but began to lose this importance during the Austro-Hungarian rule, resulting in many residents moving elsewhere.
During the Bosnian war, Pocitelj became a target of the Croats' due to its high percentage of Bosniak inhabitants. Buildings were damaged, as was the mosque and examples of Islamic art. The bombardment caused more inhabitants to move away from Pocitelj for their safety, and by the end of the war the town was largely abandoned. Work began to restore some of the buildings; the mosque has been brought back to its former glory, however, not all of the restoration followed traditional methods. This has left Pocitelj on the UNESCO tentative list.
Today, some residents have returned. They sell fresh juices, dried fruit and souvenirs to the few tourists that come to explore the area.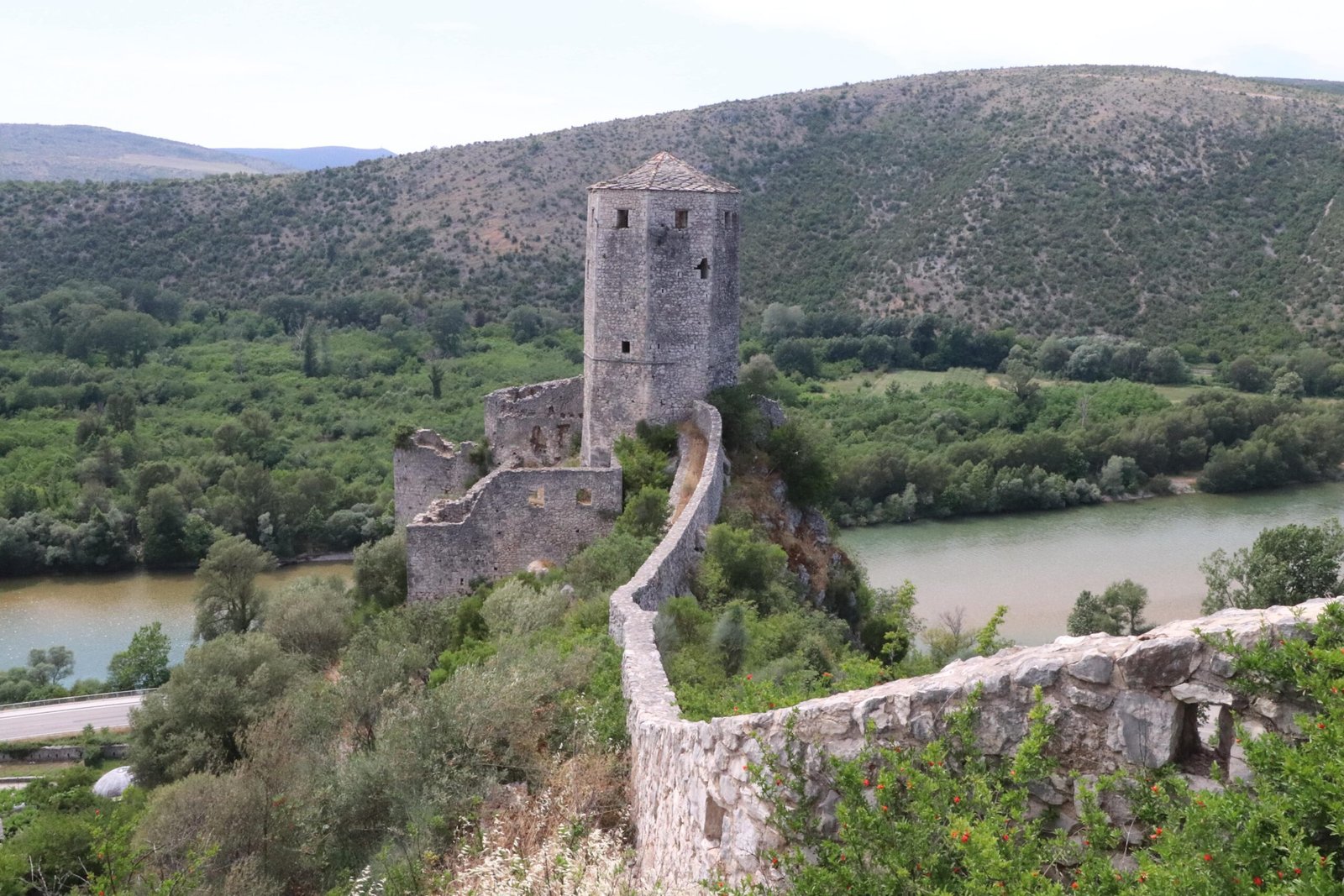 How to Get to Pocitelj
This is the question! So, before we headed out here, I read plenty online about people having difficulty getting there and back, people getting stranded, people saying you need to hire a car, etc., etc.
The other thing is that the bus stop at Pocitelj does not appear on any bus timetables or Google Maps. It is, however on Maps.me.
But, in reality, it's fine!
We went to Mostar East bus station and asked when the buses were leaving on Saturday. There was one at 12:30 that was heading from Mostar to Dubrovnik via a town called Capljina – the closest official bus stop to Pocitelj. When we got on to the bus, we showed the driver our ticket (which named Capljina as our destination), but explained that we actually wanted to get off at Pocitelj. He was fine about that and even appeared quite excited that we were going there. As we started to draw closer, he was pointing out the tower in the distance. After thirty minutes on the bus, we jumped out, crossed the road and we were there.
How to Get Back to Mostar from Pocitelj
Now, getting back to Mostar is the real challenge.
The bus heading back the other way – so, Dubrovnik to Mostar – is scheduled to drive past Pocitelj around 19:00/19:30. This means you would be in Pocitelj for a long, old time; and while it is beautiful, it would be difficult to fill six/seven hours. So, we spoke to a woman working in a roadside cafe. She called her taxi driver friend and he drove us into Mostar for 20 EUR.
If you decide that this method is not for you, there are many group day trips that incorporate Pocitelj, Blagaj and Kravice waterfalls. Just bear in mind that organised tours generally give you a very short period of time to explore Pocitelj, so make sure you check this before booking. Ask at any tourist information desk in Mostar and they will have something for you.
Exploring Pocitelj
If arriving by bus, you will be dropped close to the lower gate. As Pocitelj is a walled town built into the side of a karst cliff, it requires a lot of walking up and down (unless you work it through systematically).
Entering through the lower gate, you will see the old han (inn) and then come to an area with a couple of restaurants, souvenir shops and some locals selling fruit and juice. Start walking up from here, you will see the hammam on your left and the mosque on your right. Taking the path to the left from here will bring you towards the northern-most part of the town and the abandoned tower.
Now, let me be frank: the tower does look like it is pretty dodgy. Smooth, slippery stone staircase without railings, no passing places for other people, some sheer drops, and a generally crumbling building. Enter at your own risk as the buildings are not maintained.  The staircase spirals around the inside edge of the tower looking down into a large open space in the centre. At the top you can get some stunning views across the whole of the town: the mosque, the hammam and the Neretva river all in one frame.
Smooth and slippery tower steps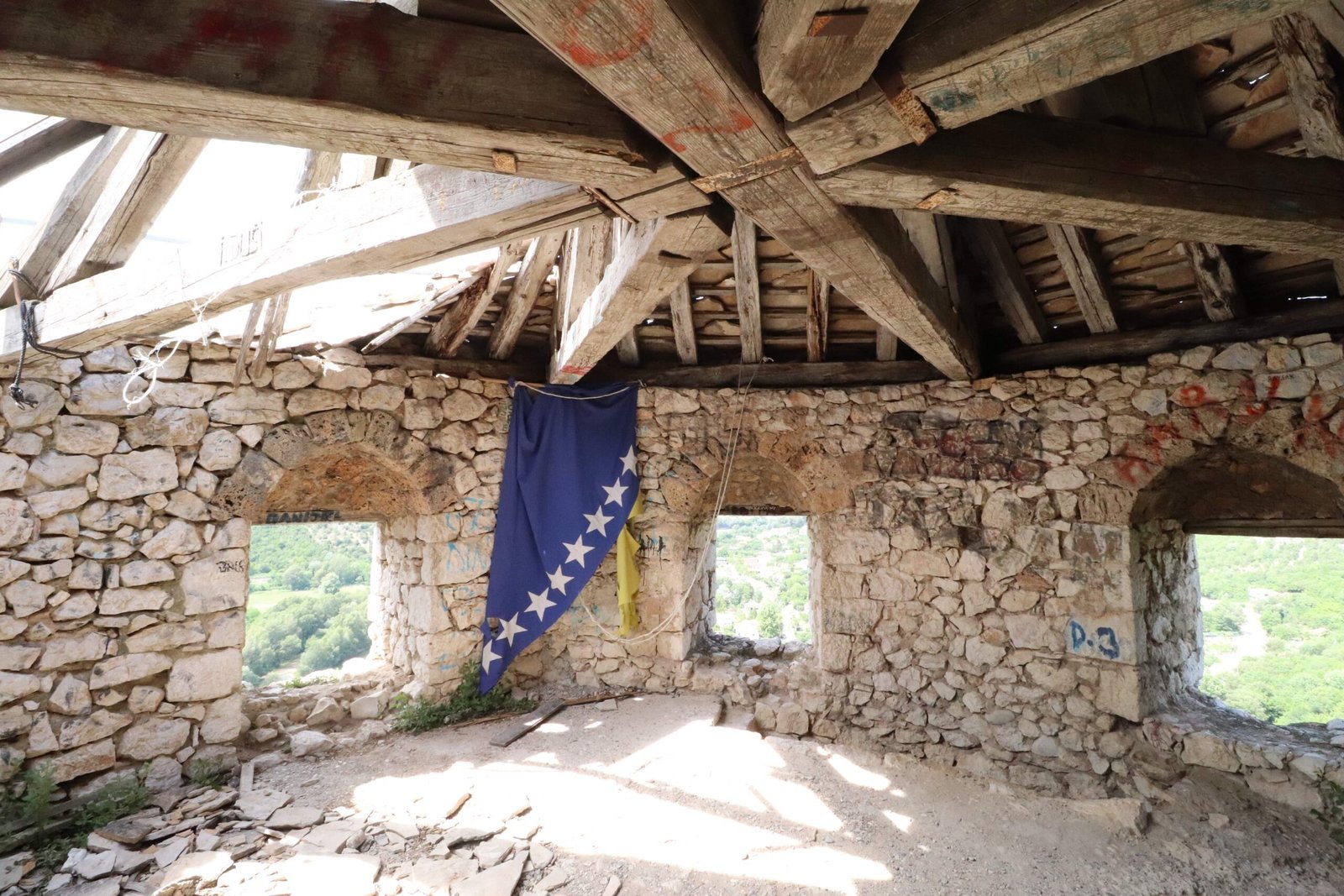 The top level of the tower
Views over Pocitelj from the tower
Once you have had your fill of adrenaline, leave the tower and head upwards, roughly following the old town wall. Stop to venture down all the little alleyways to explore all Pocitelj's pockets of architectural charm.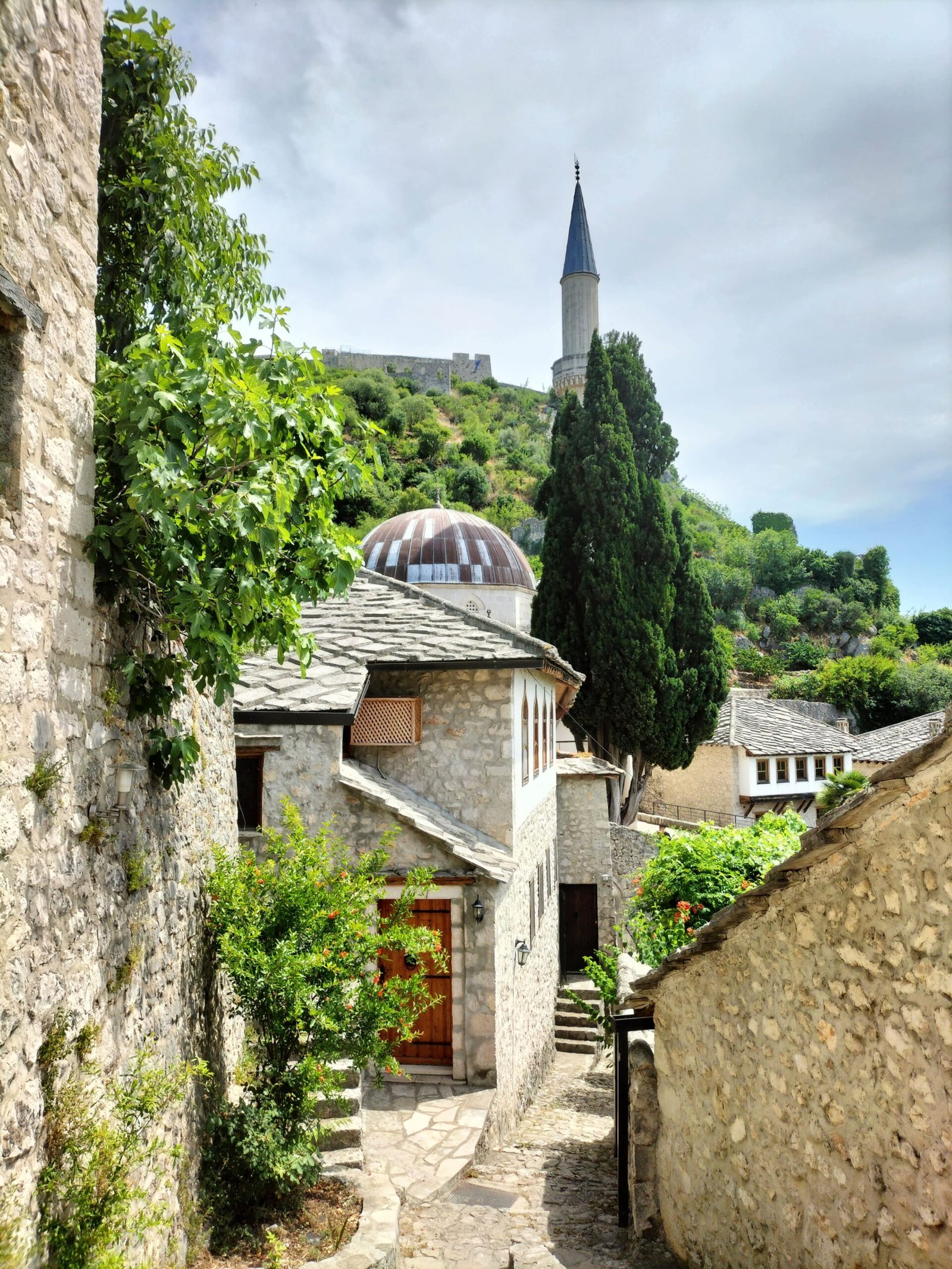 At Pocitelj's higher gate, turn right and (again) more or less follow the town wall until you get to the main viewpoint for the whole town. There is a metal staircase and platform that has been added in for tourism purposes, so this felt safer. And the view is wonderful.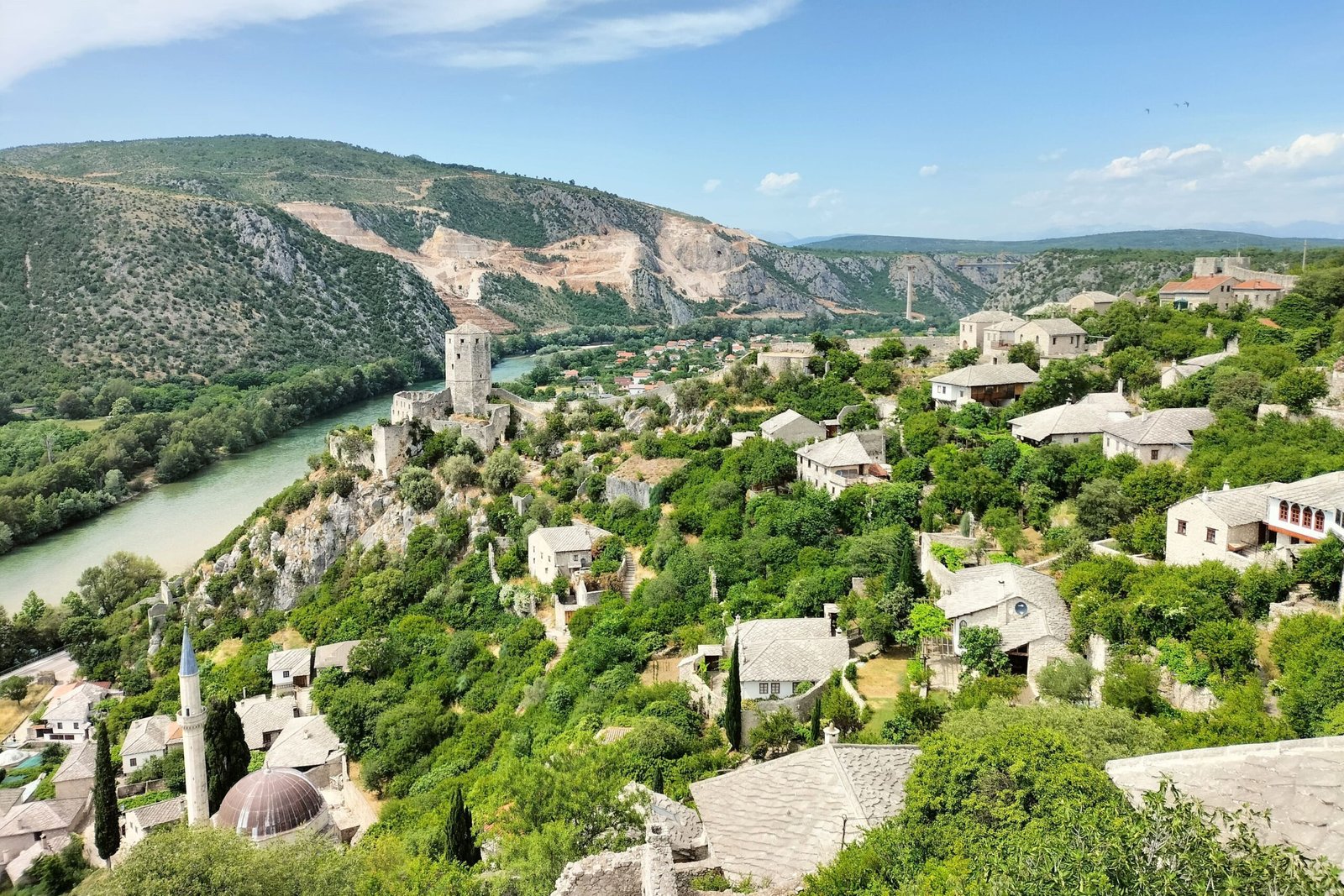 Working your way back down from here to the centre of town, stop in to take some photos of the mosque. The door was shut when we were there, so we asked if we could enter and they opened the door for us straight away. I had to cover my legs, so put my trusty baggy travelling pants (or jazzy pants) over the top of my shorts. No problems.
Inside the mosque with its colourful glass
(Jazzy pants back into the daybag), head back down towards the lower gate. Stop to buy a souvenir, some frozen pomegranate juice or some dried figs to support the locals.
How Long to Spend in Pocitelj
We spent about 3 hours in Pocitelj, including our lunch stop. The area is small and everything is in walking distance, though in the heat of the summer sun, walking up the many steps to the top of town can be tough. I would recommend at least an hour and a half to fully experience Pocitelj.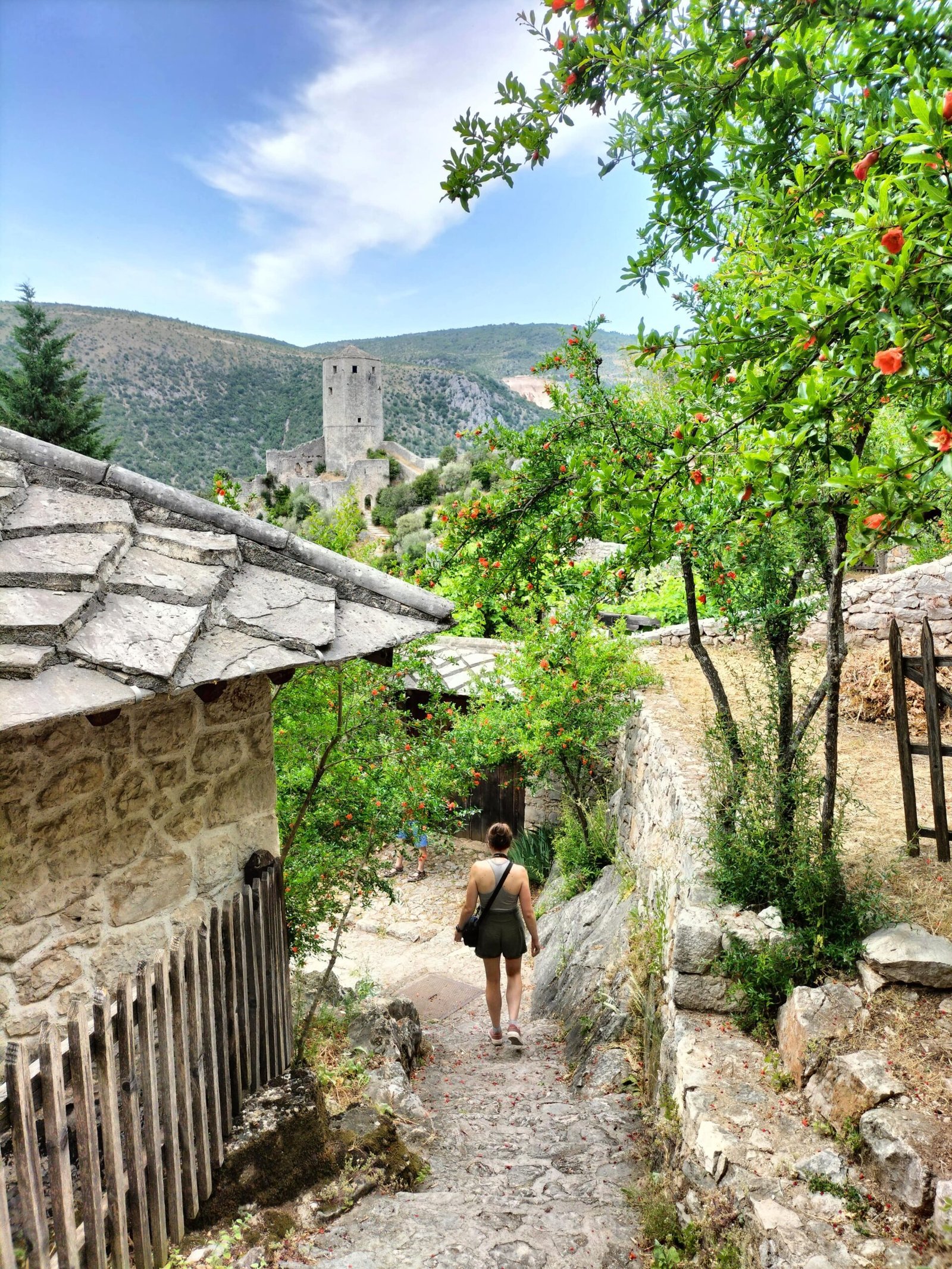 Restaurants in Pocitelj
There are several restaurants around Pocitelj, but we only ate at one – Bistro Stari Grad. The food was good and there were veggie options. We had the veg plate and peppers with cheese. (In reality, the veg plate is the same as the peppers with cheese, just with a few extra salad bits.) If you have been to this restaurant or any others, let me know what you think.
Have you been to Pocitelj? Is there anything else you would add?
I'd love to hear your thoughts, recommendations or questions.
Thanks for reading!