How to Get from Pogradec to Ohrid
Published on 13 September 2023
Planning our route through Albania and into North Macedonia, I saw a spot on lake Ohrid on the Albanian side which looked nice: Pogradec. The idea was then to find a bus to take us an hour or so round the lake through the North Macedonian border and to Ohrid city.
We arrived into Pogradec, and started asking around for our onward journey to Ohrid. The bus station said there were no buses. Why would there be no buses to drive an hour round the lake? Surely that's a perfect day trip? Or vice versa? Confused and convinced that they must have had it wrong, we spoke to some other people; and sure enough, there is not a single bus that goes this route! 
We couldn't find much information on how to get from Pogradec to Ohrid online, so hopefully this small guide helps .
If you are in a similar situation, do not fear. You don't have to pay for an expensive taxi ride. It will be more of a challenge, but that's half the fun of travelling, right?
Tips for Making this Journey
1. Download a North Macedonia map on Maps.me. This has the locations of bus stops and walking paths that Google Maps has never heard of.
2. Make sure you have euro notes or Macedonian denar. The bus on the North Macedonian side will not accept Albanian lek as payment, and we didn't see ATMs.
3. Be aware that you will have to carry luggage across the border yourself and walk for at least ten minutes between border posts.
Ok, so leg 1: Pogradec to the border/Tushemisht
There are minibuses that will take you to the border which are meant to leave at 8am, but it depends on how full the buses are. If there aren't many people, you might have to hang around until there are enough. We were quoted 250 lek each. However, when we got the bus stop point early, a taxi driver offered us a ride for 400 lek total, so we jumped in the taxi and off we went.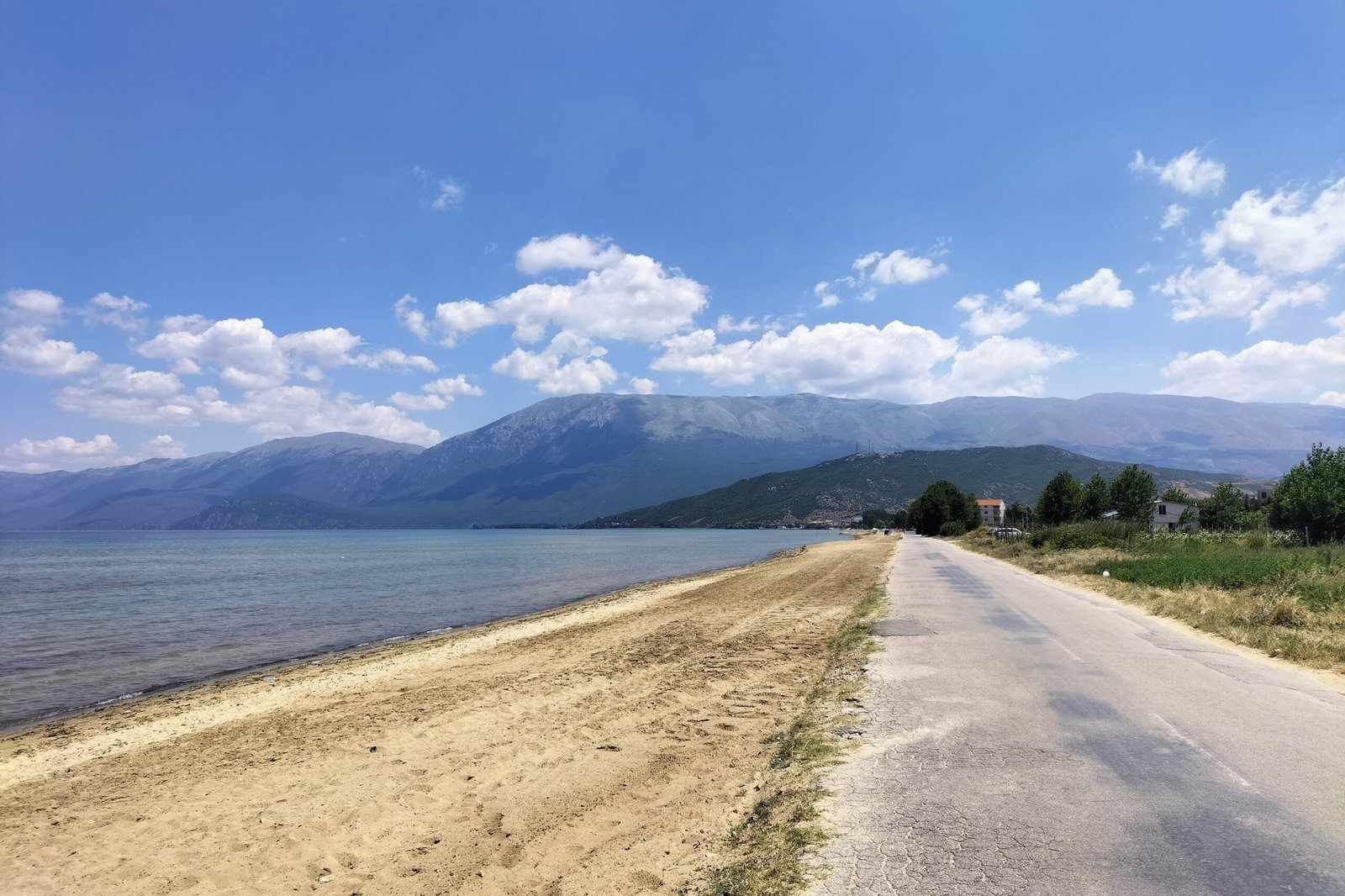 Leg 2: Crossing the Tushemisht/St. Naum Border
There was not a single other person here except for the guy checking passports. No queues, nothing. It was a dead easy border crossing. Bear in mind, to get from the Albanian border to the North Macedonian border, you will need to walk for about ten minutes. At the North Macedonian border, there was literally no one, not even border police! We approached the border and tried to catch their attention by making noise, talking loudly etc. and someone came out of an office. Stamped our passports, and again, off we trotted.
Alternative Leg 2.5: St. Naum Border to St. Naum Monastery Bus Stop
If you are particularly early for the bus (like we were) or didn't know the bus drove directly to the border (like us), you might walk to the St.Naum bus stop and get picked up from there. Otherwise, skip to Leg 3 below.
Walk from the border along the road for a while, maybe five minutes, and you will see a small dirt path off to your left. Walk down here and you will hit a better trodden path. Follow this to the left and it will bring you round by a caravan park, St. Petka Church and St. Naum Monastery. You should see Lake Ohrid in front of you by this point. Follow the pedestrianised road along the water to the right. Walk through the fancy St. Naum archway and you will see a small wooden bus shelter ahead of you on the right. You've made it!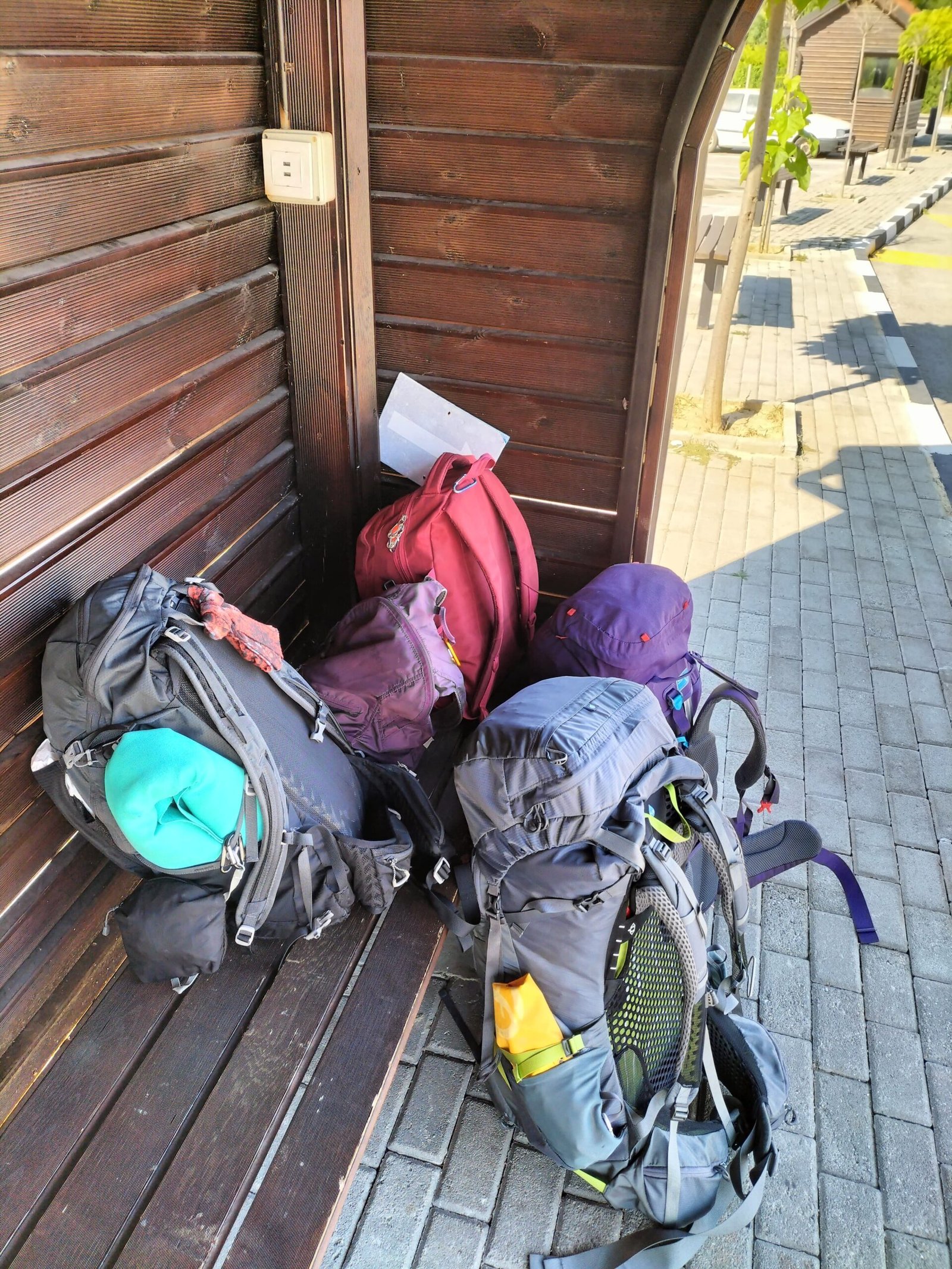 Leg 3: St. Naum Border to Ohrid City Centre
Sit tight at the other side of the North Macedonian border and the bus will come and pick you up. Just after 9:20 is the first bus. It costs 180 MKD each and must be paid in Macedonian denar or Euro notes (not coins). There are no ATMs at the border, so make sure you get enough currency before you cross the border. The bus will take you on a scenic drive around the lake and drop you into Ohrid city centre just before the City Central roundabout.
Looking for ideas for the rest of your North Macedonian itinerary? I would thoroughly recommend our two favourite spots in the country Bitola and Krusevo.
Bitola has a characterful Ottoman-style bazaar, plenty of restaurants catering to vegetarians, is home to the ancient mosaics of Heraclea Lyncestis, and has a great cafe culture.
Krusevo is a small but mighty mountain town known for its historic victory against the Ottomans. Perfect for street photography lovers, the cobbled streets and traditional buildings are idyllic. Make sure you head over to the UFO-like Ilinden monument too!
Have you made this journey? How did it go?
I'd love to hear your thoughts, recommendations or questions.
Thanks for reading!