How to Explore Bosnia's Beauty: Una National Park
Published on 23 August 2023
Thundering waterfalls, its fine, cool spray on your face, the phenomenally blue waters, and sheer tranquillity. Largely untouched by tourism, you will likely have Una National Park more or less to yourself. No crowds, no queues for the photo opportunities, just serenity. And I really mean that. Our experience at Una National Park was probably the quietest we had in the whole country, and it was bliss.
Bosnia and Herzegovina's youngest national park sits on the boundary line with Croatia in the north west of the country, the Una river even creates a section of the boundary. Locals recommend pairing a visit to Una National Park with Croatia's Plitvice Lakes, and while I'm sure this is phenomenal (the pictures I've see online look amazing), I'm pretty confident in saying that you're unlikely to match the peacefulness of Una.
Best known for its rivers, lakes and waterfalls, Una National Park also features historic towns and ruins. Seeing all that Una National Park has to offer makes for a perfect weekend trip. Download your Bosnia and Herzegovina map on Maps.me and pack yourself a picnic.
Here is everything you need to know to visit Una National Park independently.
How to Explore Bosnia's Beauty: Una National Park
Getting around the Park
Hire Yourself a Car
Once we arrived into Bihac, we spent an afternoon searching for a car to hire for the next two days. Bad move. There were no cars available in any of the companies in Bihac city centre. We spoke to our accommodation host to see if he could recommend anywhere. He pulled out all the stops for us: rang around car rental companies, booked us a car at a company outside of the city, drove us twenty minutes to go pick up the car, and helped us with translating paperwork. Forever grateful for the innate kindness of people: classic Bosnian hospitality.
So, the moral of the story is to book your car ahead of time.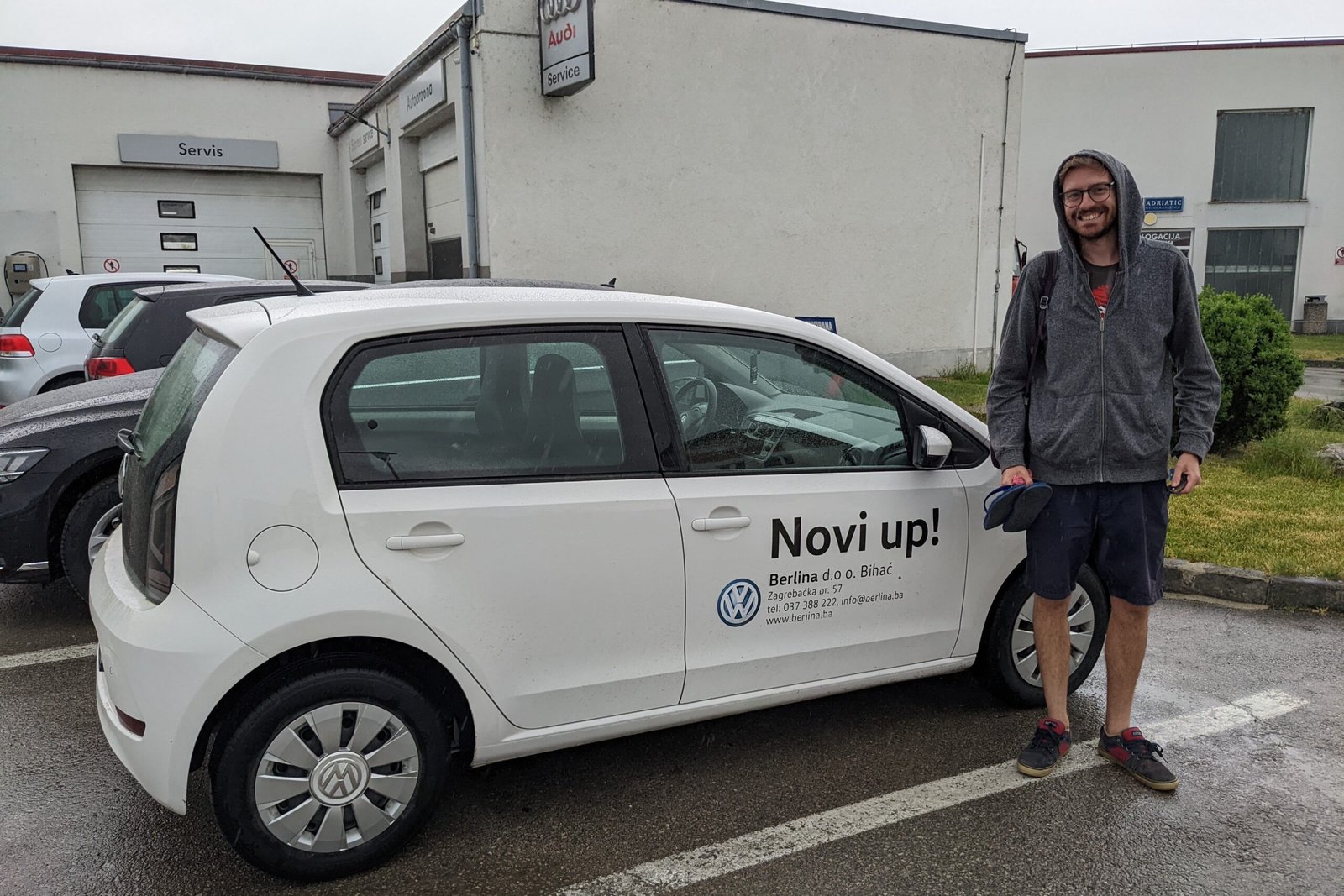 The perfect little car for getting around the national park
The company was Berlina, a Volkswagen dealer, and I would highly recommend them (apart from the fact that they are outside of the city). It cost us 65 KM per day, and when we returned the car, they dropped us back at our apartment for no extra cost.
When we were having our panic about not being able to hire a car, we also called the Office of Una National Park to ask if any tours were running over the next couple of days that we could join. The answer was no, there are no tours to Una National Park. So hiring a car or paying for an all-day taxi, really is the only way to get around the national park.
My concern before hiring a car was the quality of the roads. I had heard horror stories from people taking road trips through the Balkans! However, I can report that the roads around Una National Park are pretty good and we had no problems getting around. Some of the smaller roads were gravel and some were single lane with passing places, but the overall quality was fine.
Best Spots to Visit
Our three favourite spots in Una National Park were Štrbački Buk, Martin Brod and Kulen Vakuf. There are lots of other small villages and towns with historic ruins, and options for activities such as white water rafting also.
Strbacki Buk
Strbacki (Štrbački) Buk is the largest waterfall in Una National Park, and it really is impressive. The bright blue, waters cascade down several layers. Alongside, a boardwalk follows the full length of the waterfall with multiple viewpoints from wooden towers and trodden footpaths towards the water's edge.
There are stalls selling food, ice cream, drinks, local products etc. and plenty of benches and tables overlooking the river and the waterfall. Sit down and have yourself a beautifully scenic picnic.
There is an entrance fee of 7KM per person, plenty of space for parking and no parking fees.
Una National Park's main event
Martin Brod
Martin Brod has several smaller waterfalls that are hidden in amongst a village. There is not a huge amount of parking here. We were able to leave our car on a side road near Una-C hotel. If this isn't available, there is plenty of space back across the bridge near the Martin Brod info point.
Keep an eye out for this guy. He is the cutest little tour guide in Martin Brod, and will happily show you around all the waterfalls (and wait for you while you take photos).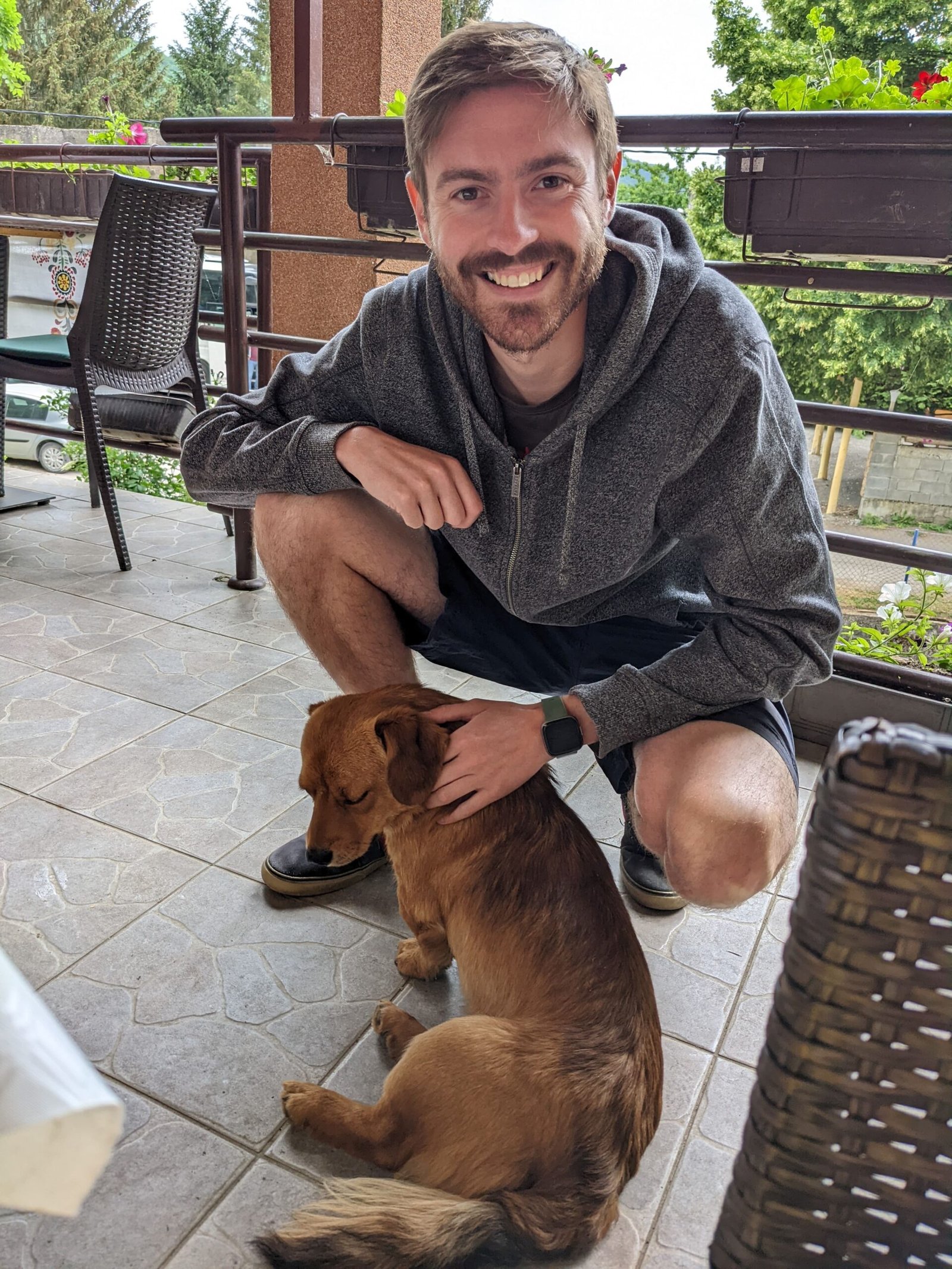 Walking towards the Martin Brod waterfalls, you will see a red bridge in front of you and a path veering to the left with a small wooden hut. Take the red bridge (you don't have to pay to walk this first part) which takes you over small layered waterfalls. Continue walking for a short while (5/10 minutes) and you will be brought to another waterfall right in the middle of the village.  
Layers of waterfalls in Martin Brod
Returning back across the red bridge, head up the path next to the wooden hut to get to the main event. You will need to pay 3KM per person to enter. Just a short distance up this path, you will see a boardwalk bringing you to the perfect spot to view the waterfall Milančev Buk.
Behind what appears to be an abandoned building is a path that leads a traditional watermill and ecolaundry, as well as the start of Martha's Path. Martha's Path is a short 15 minute walk one-way that takes you alongside the glacial blue water. If you have a little extra time after viewing the waterfalls, I would recommend having a gentle stroll this way.
Our new wee mate waiting to show us the way
Kulen Vakuf
Kulen Vakuf is a small village on Una river. It has two cafes/restaurants right by the bridge into the village, as well as a restaurant just before the village called Havala. We grabbed an inexpensive lunch of veg soup with bread and grilled veg with rice from here. From Kulen Vakuf, you can walk up to the ruins of Ostrovica Fortress for amazing views over the area. Unfortunately the ruins are in such disrepair that you cannot easily walk around them, however the viewpoint in itself is worth the climb – it only took us about 45 mins. Once you get back down to Kulen Vakuf, grab a drink at one of the riverside restaurants and watch the gentle water flow by.
Ostrovica Fortress viewpoint
Things to Do in Bihac
Bihac (Bihać) is a small city with river Una running through it. There are a few historical sites – a mosque, a church, a tower, Soviet-style buildings – but it only took us about 30 mins to an hour to see the majority.
I know it's not a stand-out piece, but I love the buidling's character!
There are several restaurants in town – notably Restoran Sofra which serves traditional Bosnian food. We found several vegetarian options here: classic shopska salad, a cheesy veg rice dish, pastas, pizzas, ajvar and other vegetarian dips.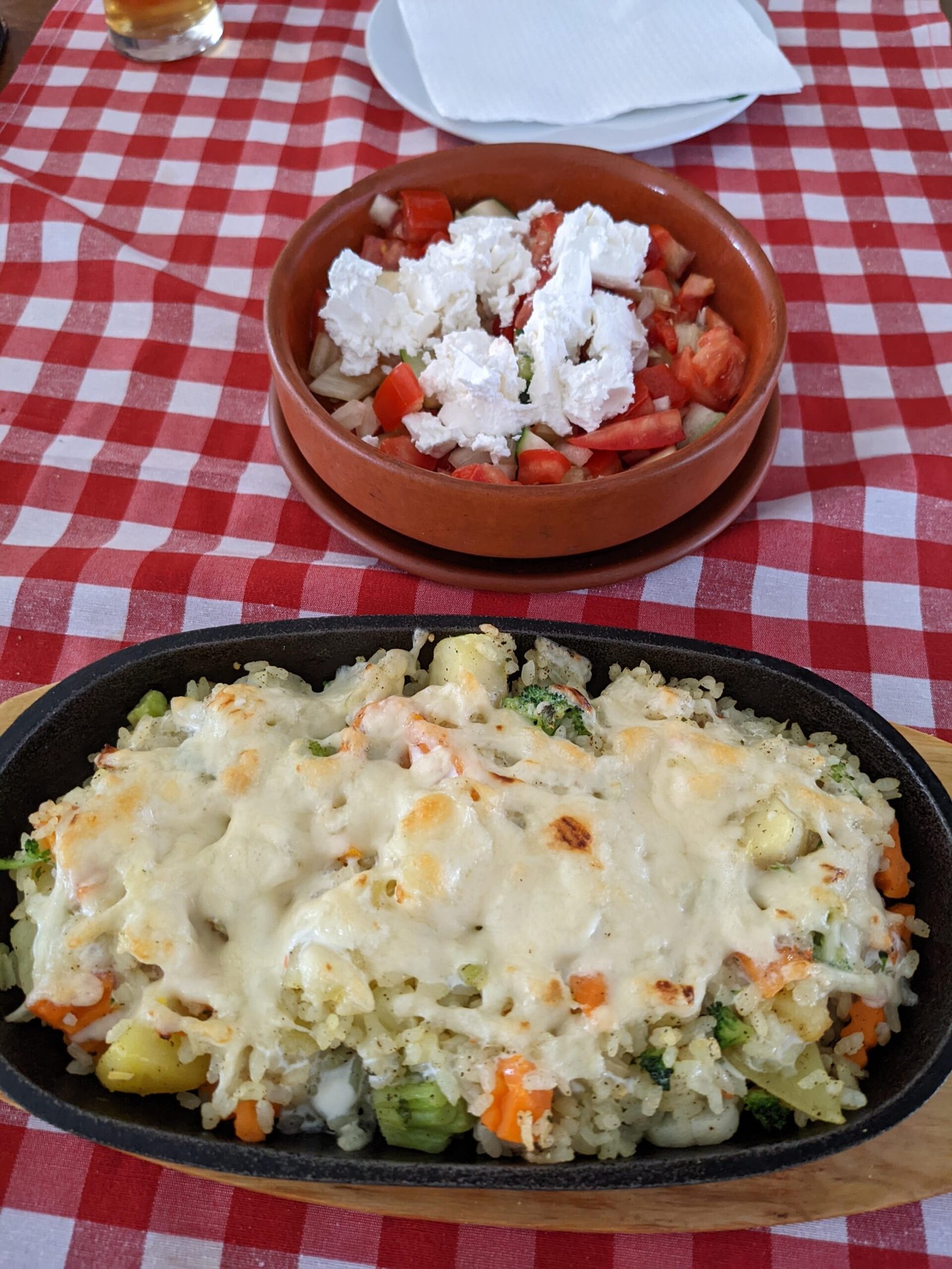 Just out of town is a restaurant/cafe which has a seating area right on the river, named Mlin. It is set on a family-owned watermill, and the owner will be more than happy to tell you about its history. It is a beautiful setting to have a morning coffee or an evening drink.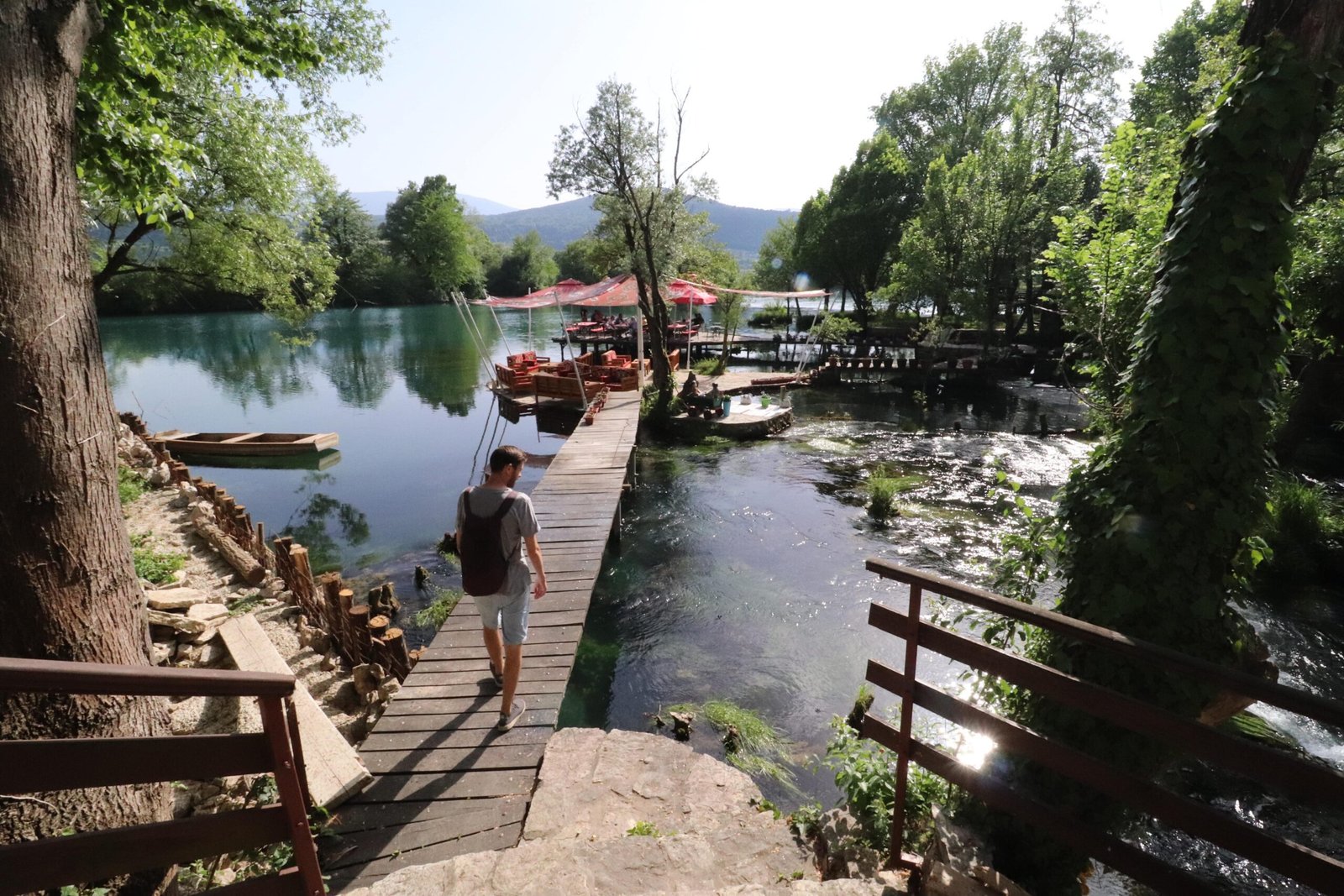 Have you been to Una National Park? Is there anything else you would add?
I'd love to hear your thoughts, recommendations or questions.
Thanks for reading!