Lakes and Waterfalls: Top Things to Do in Jajce
Published on 9 August 2023
Jajce, literally meaning 'egg', is a small medieval city located in the centre of Bosnia and Herzegovina. A Bosnian friend of ours, who is actually from Jajce, recommended that we visit. And I'm so glad that we did; we were both in awe of this small city's natural beauty.
Jajce's defining feature is its thundering waterfall right in the heart of the town. River Pliva runs through the centre and joins river Vrbas at the base of the waterfall, meaning that Jajce is set at a confluence of two rivers and a waterfall. Aside from its natural beauty, Jajce has a prominent history. It was the medieval capital city of Bosnia back in the 14th century when the country was still ruled by a monarchy. Stjepan Tomašević was crowned, executed and buried in and around Jajce as Bosnia's last king before Ottoman empire rule for the next 400 years.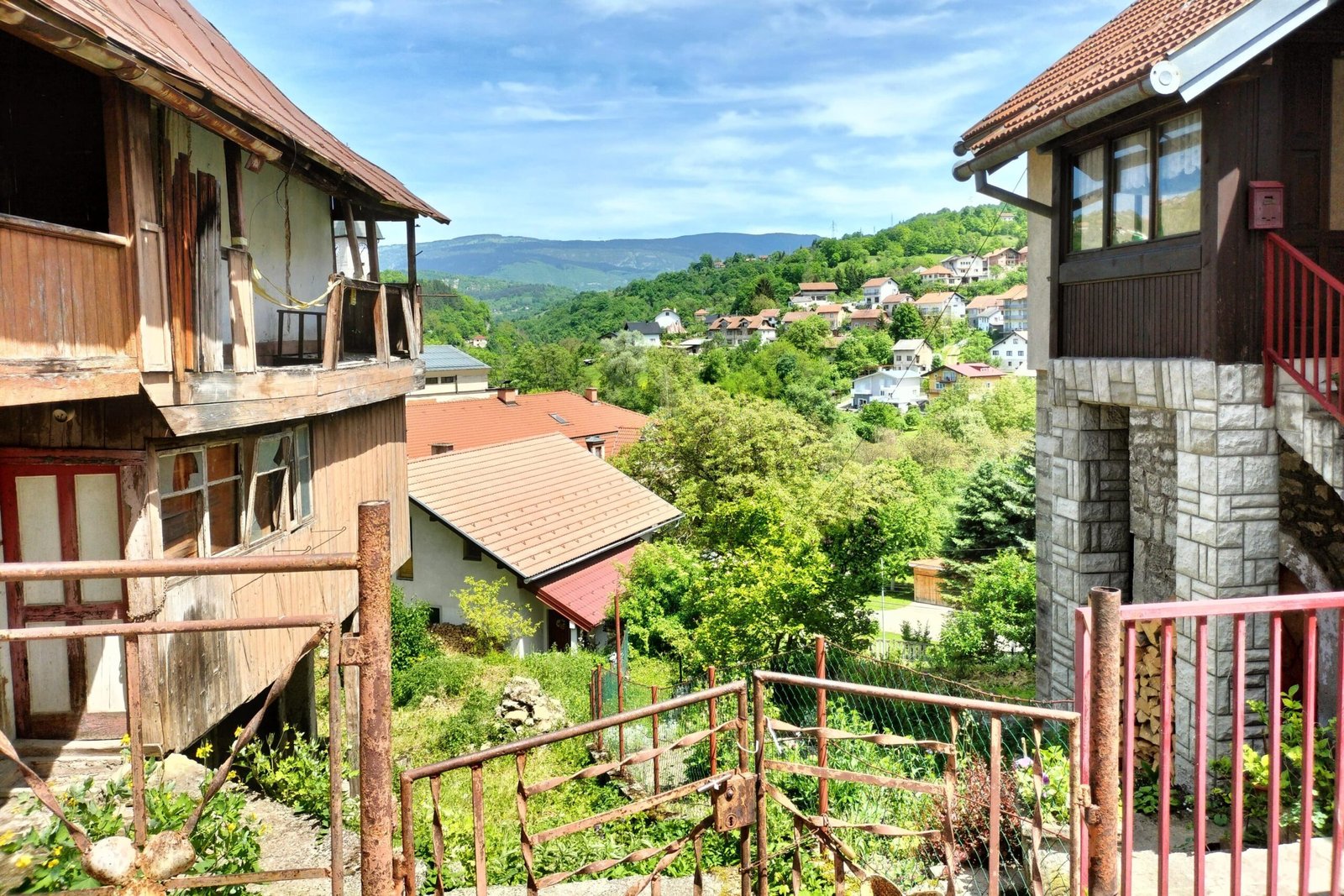 You can still see the medieval and Ottoman influences throughout the town in the architecture, fortress ruins, cobbled streets and towers. Jajce has maintained its historical town feel without prettifying it for tourism, making it feel genuine. It has kept its old worldliness.
The beauty of this compact, easy-going city can be seen in one day; the majority of tourists visit as a day trip. However, I would recommend spending one night to enable you to visit the Pliva lakes and watermills up the road the next day.
In this short guide to Jajce, you will find tips on how to get to the city, top things to do, and advice on eating veggie here (which is a little challenging).
Lakes and Waterfalls: Top Things to Do in Jajce
How To Get to Jajce
The nearest airport is Sarajevo (SJJ) which connects Bosnia and Herzegovina with several locations throughout Europe and the Middle East.
From Sarajevo, four buses go to Jajce each day, the journey lasting around four hours and costing just under 20 EUR.
There are also direct bus connections with other cities throughout the country, notably Mostar and Bihac near Una National Park.
Things to do in Jajce
Hunt All the Best Waterfall and River Viewpoints
The waterfall is the main event in Jajce, so if you have time to do just one thing, make this it! The main viewpoint of Pliva waterfall has an entry fee of 8KM and allows you to get up close to the cascading waters to feel the fine spray. This is the viewpoint that all the crowds flock to, so pick the time you visit carefully.
Instead, or as well, head to the other side of the river to be rewarded with a stunning view of the old town alongside the waterfall (for free and without the crowds). From the waterfall side of the river, you should be able to see a small green hut in amongst the trees on the other side of the water. That is the spot. There is no obvious route to get there – Google Maps didn't help, but trusty old Maps.me worked it out for us.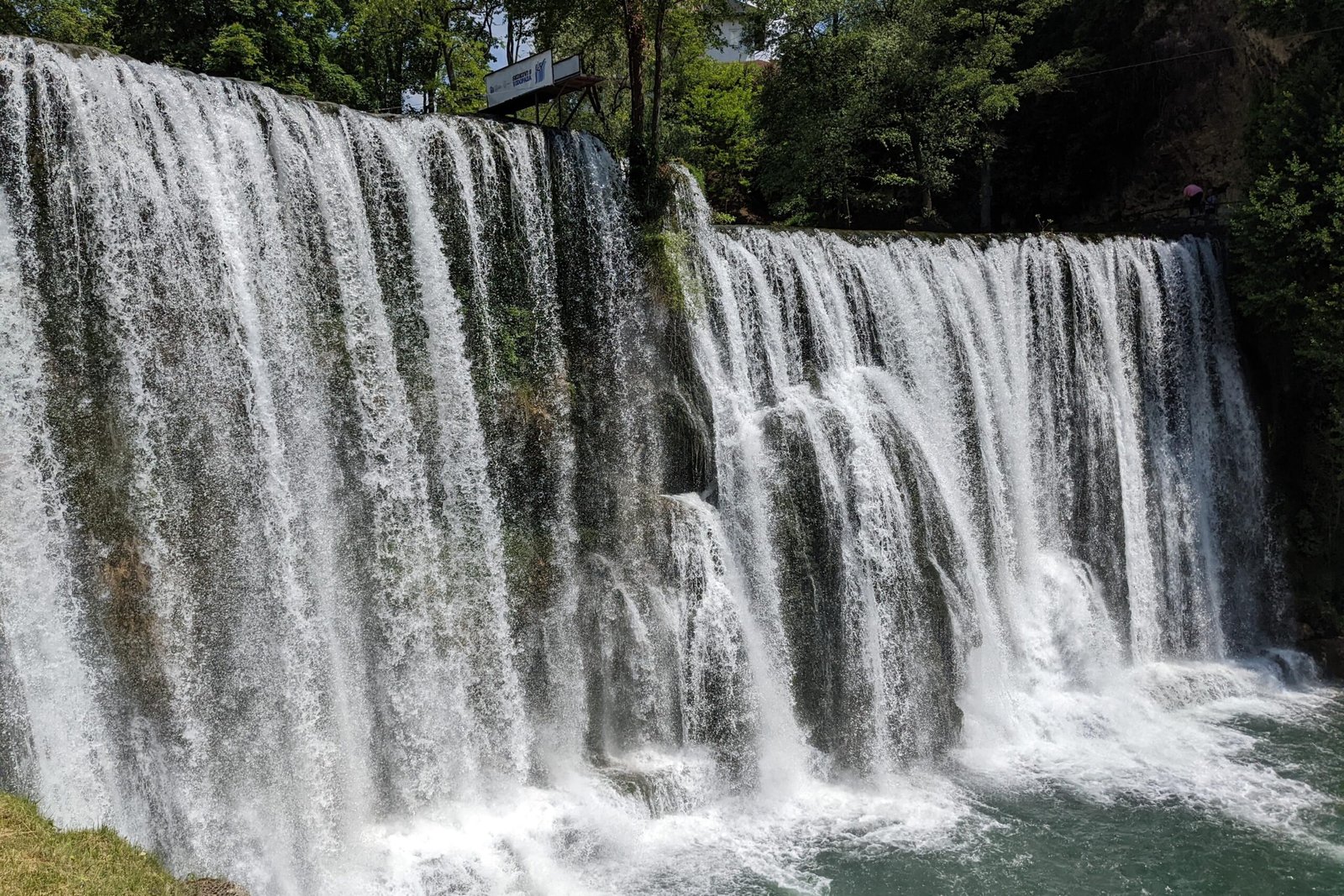 Main waterfall viewing platform
Jajce views from across the river
Walk the Cobbled Street up to Jajce Fortress, Taking in all the Historic Points
Heading into the old town, you will likely walk through the old archway (marked on Google Maps as Travnička Kapija) and past the old (but still functioning) water fountain. The fortress ruins are well signposted around town, so follow their guidance. Wander past the ruins of St. Mary's church, St. Luke's Belfry Tower, Bear Tower, maybe dip into the Catacombs, head up to the Women's Mosque and then find yourself at the ticket desk for the fortress ruins.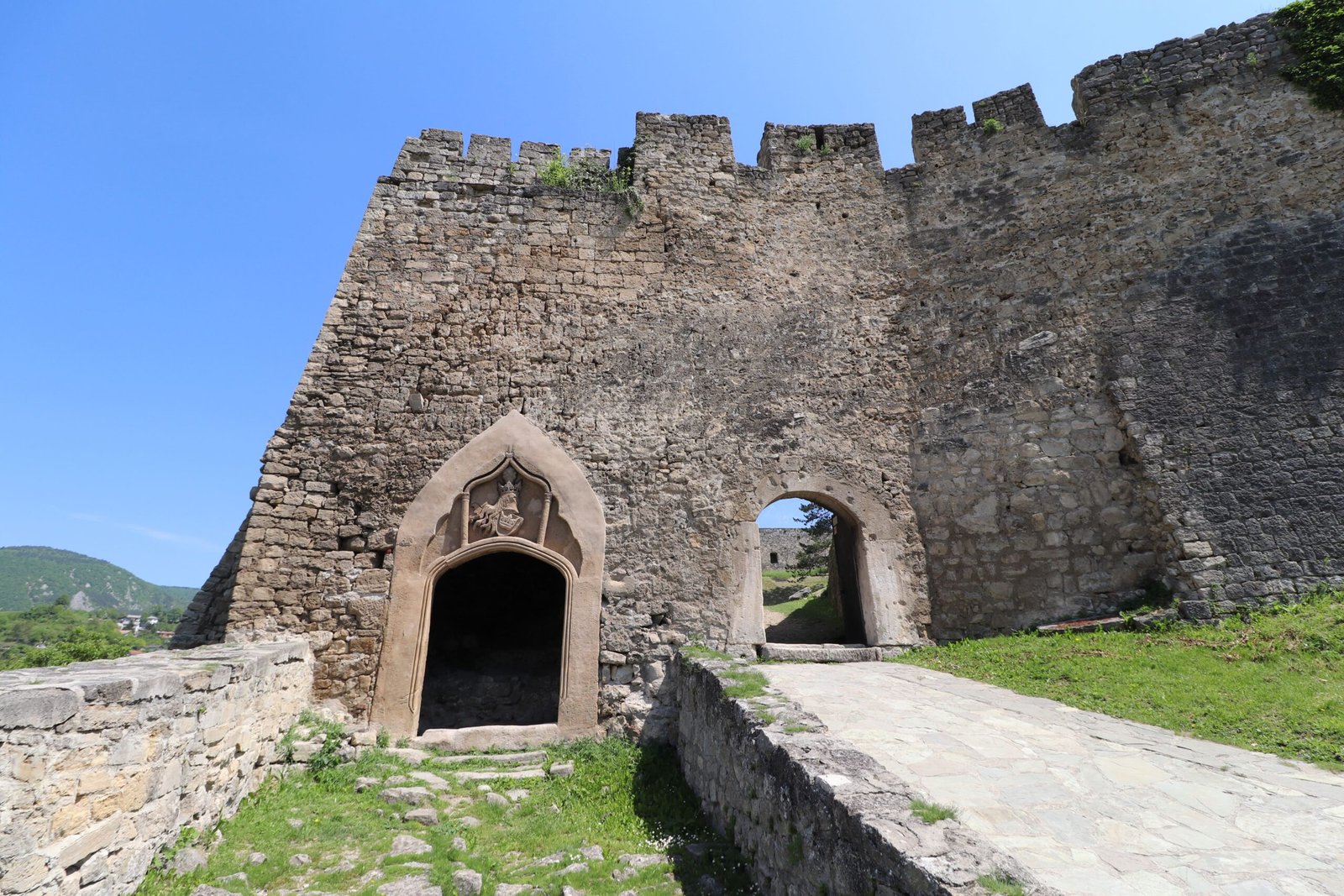 Admire Jajce from Above
Jajce fortress ruins are small and there is not a huge amount to see inside. The main reason to head up here and pay the small 5KM entrance fee is to view the panorama of Jajce town from above. You'll see the rolling hills dotted with the colourful roof tops. We spent about twenty minutes here.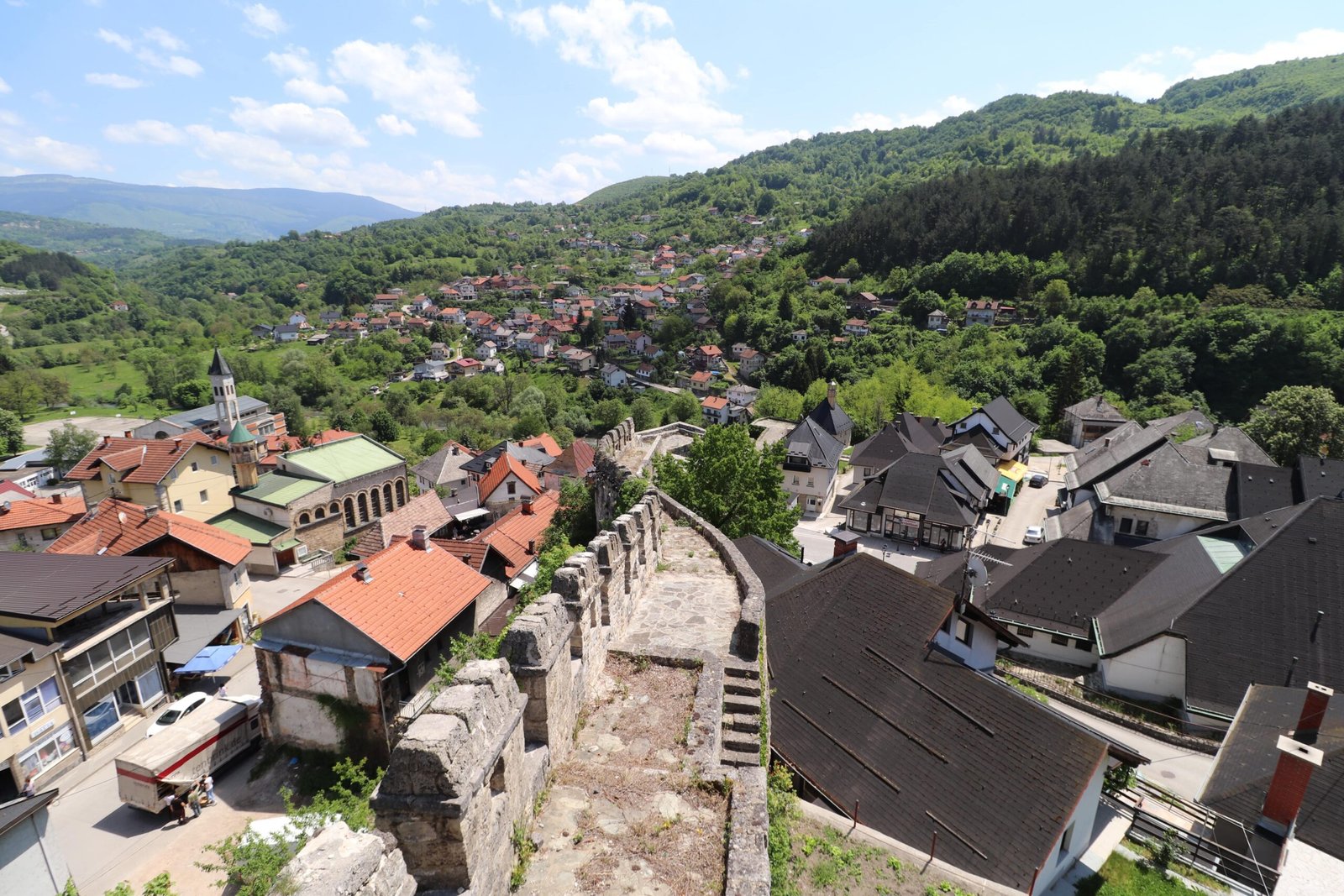 Once you leave the fortress, take the path off to the left for further ruins and viewpoints over the town from outside of the fortress grounds. (Make sure you have a wander round the rest of the town outside of the old city walls. You'll find abandoned buildings covered in bullet holes serving as reminders of the recent Bosnian war.)
Venture out to Pliva Lakes and See the Historic Watermills
You can walk to the watermills in between the two Pliva lakes from Jajce town. It will take about an hour, is relatively flat and there are a few spots to visit along the way which will break up the journey. If you don't fancy walking, it would be best to hire a car as there is no public transport driving this route.
Make Konoba Slapovi your first stop out of Jajce town. About a thirty minute walk away, this is actually a restaurant serving breakfast, lunch and dinner. They have outdoor seating with tables positioned beside small waterfalls, and on little islands in the river. Pop down to take a look or maybe grab some breakfast or a coffee while watching the water flow by.
Get back on the road and head down to Most Ljubavi (or the Bridge of Love). I don't really understand where the name comes from: there was no sign of padlocks on the bridge which is usually suggests a 'love bridge'. Regardless, the bridge is lovely to walk across and get views of the water either side.
Continue walking up along the lakeside until you reach the traditional watermills. These twenty-or-so small wooden huts on stilts sit between the two Pliva lakes. They are no longer functioning but are maintained as a point of interest. A narrow boardwalk connects each one but unfortunately, they aren't open to go inside.
Once you have had your fill of the watermills, follow the signs up to Ćusine (or take a look for the area's location on Google Maps/Maps.me). There is a relatively gentle incline up a road and then as it begins to flatten, you will be rewarded with the most stunning view of Great Pliva lake. This was a top tip from our accommodation host. He even drove us out there to show us how beautiful it was (classic Bosnian hospitality right there!).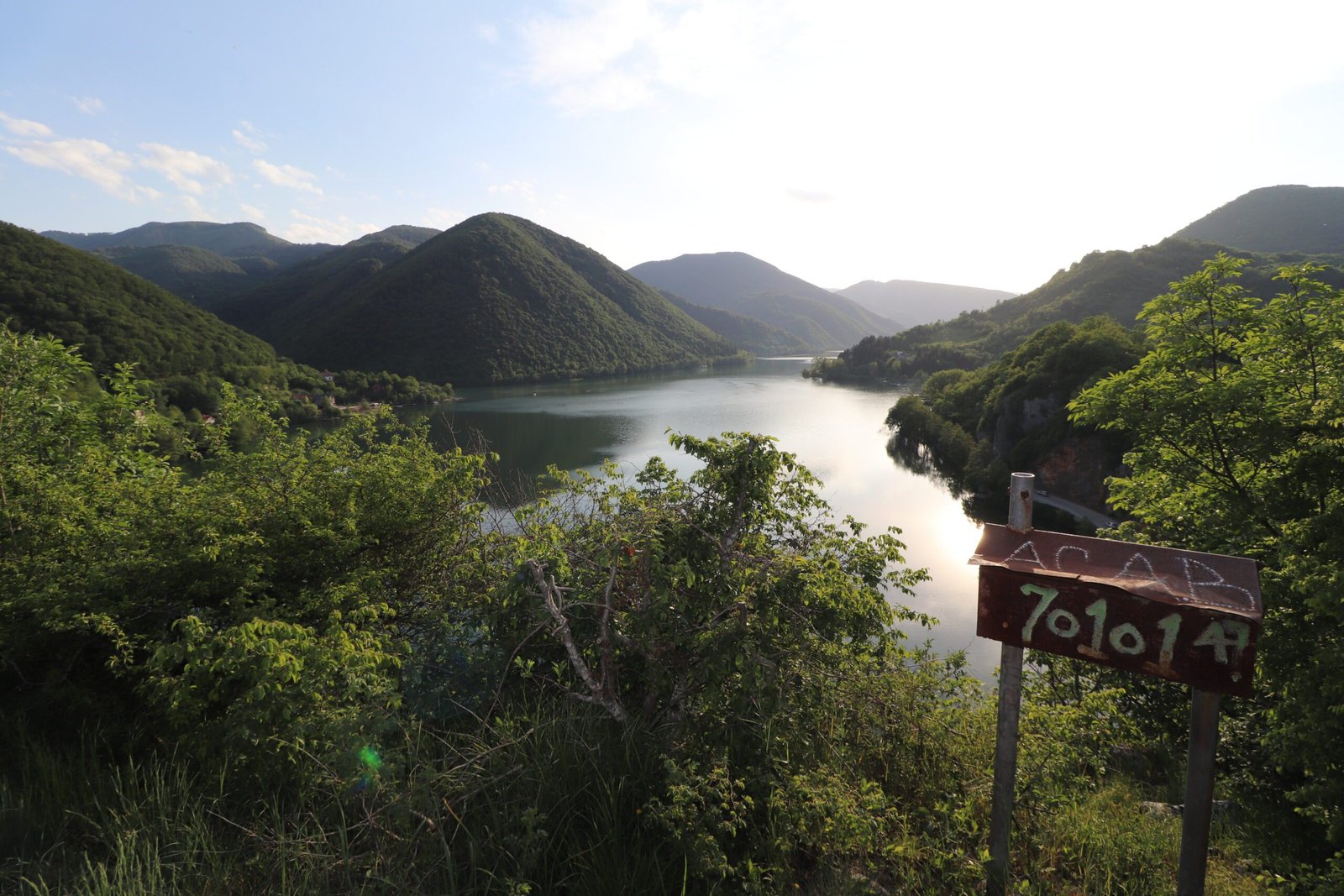 The outrageous view of Great Pliva Lake
Top Vegetarian Eats in Jajce
Being such a small town in a country which predominantly eats meat, eating vegetarian ended up being quite a challenge. We went to most restaurants and read through most menus and these ended up being our recommendations for budgeting vegetarians.
Svemirko does a veggie burger. It is a basic potato and vegetable patty, but it is served with fried courgettes, and a burger sauce in a chewy bun. They also have several different styles of chips and onion rings.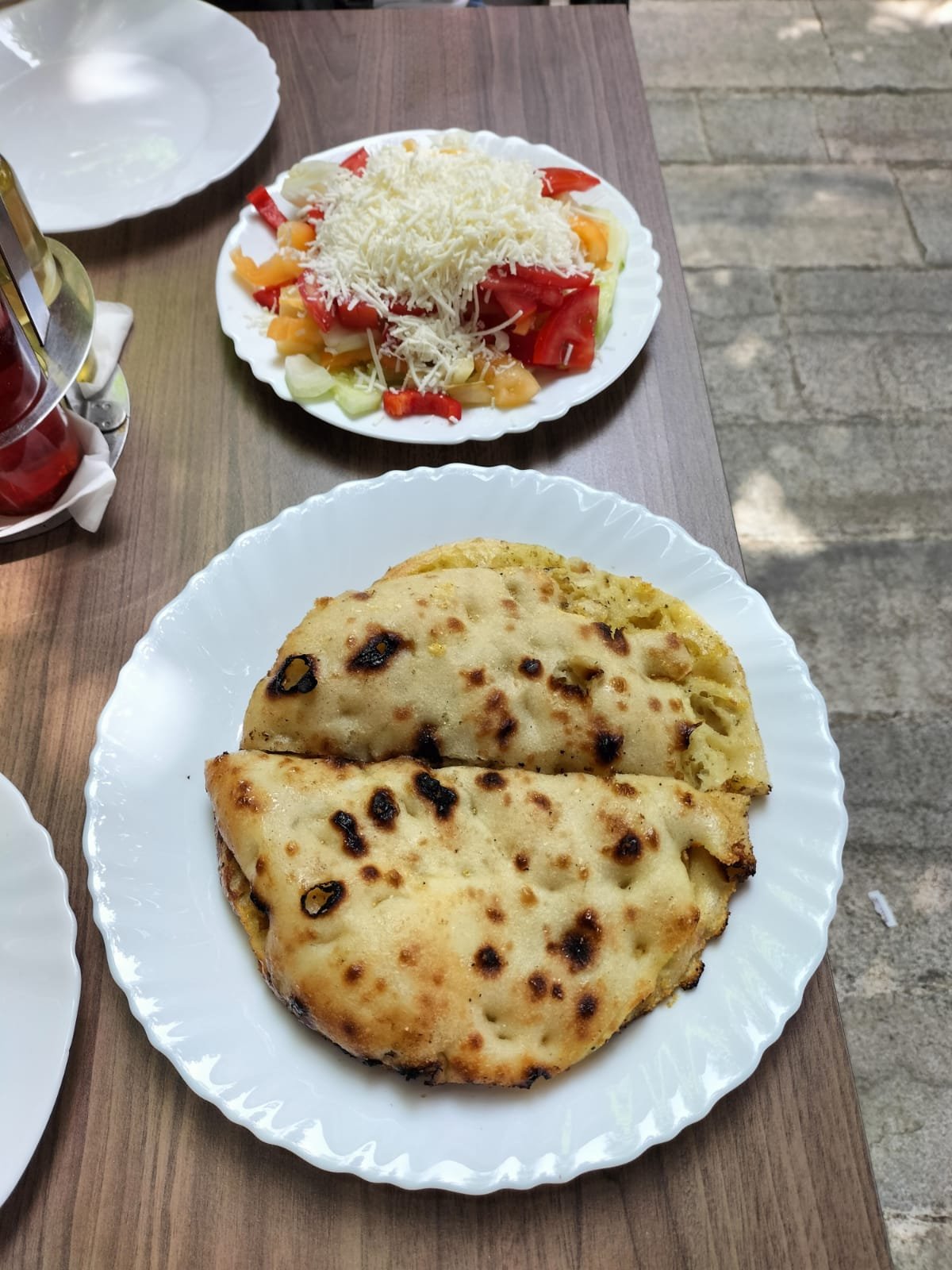 Aria has a vegetarian pizza (mushrooms and sweetcorn) a four cheese pizza and a margherita. They have a selection of salads, a vegetarian risotto and veggie sides. The 'rest mushrooms' (whatever that actually means?) are really tasty.
For something sweet, head over to Slastičarna Uno and try one of their desserts. Tufahije is a classic Bosnian dessert. It is a cold, baked apple that has had the core removed and a walnut paste inserted instead. It usually has cream on the top too.  Or, grab an ice cream.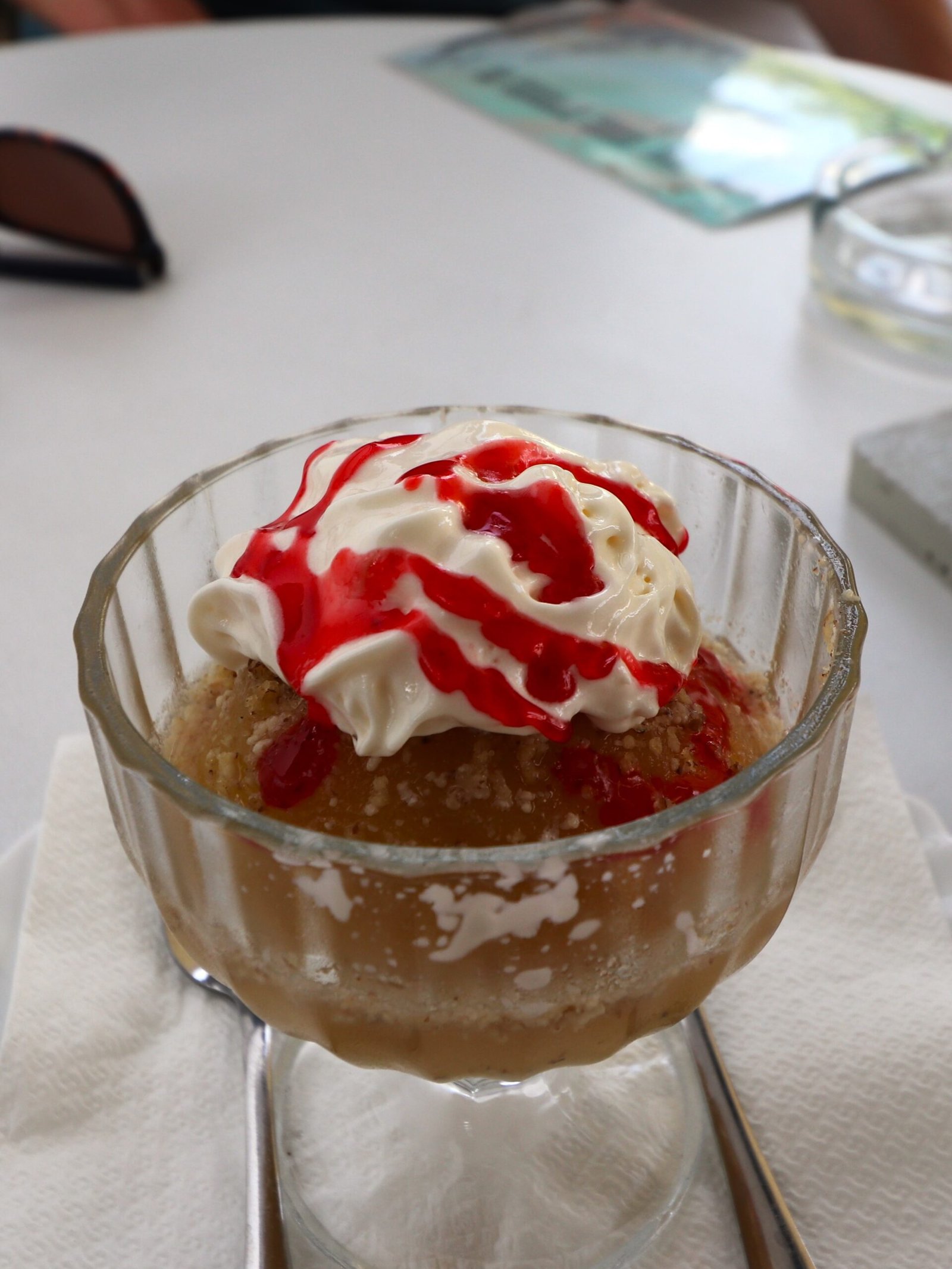 Another place that I would recommend is Kinder Palačinkarnica. They serve loads of pancakes that are smothered in various toppings. The pancakes are good, but the view is even better. Have your pancakes and a coffee overlooking the view of the river and the hillside. Lovely.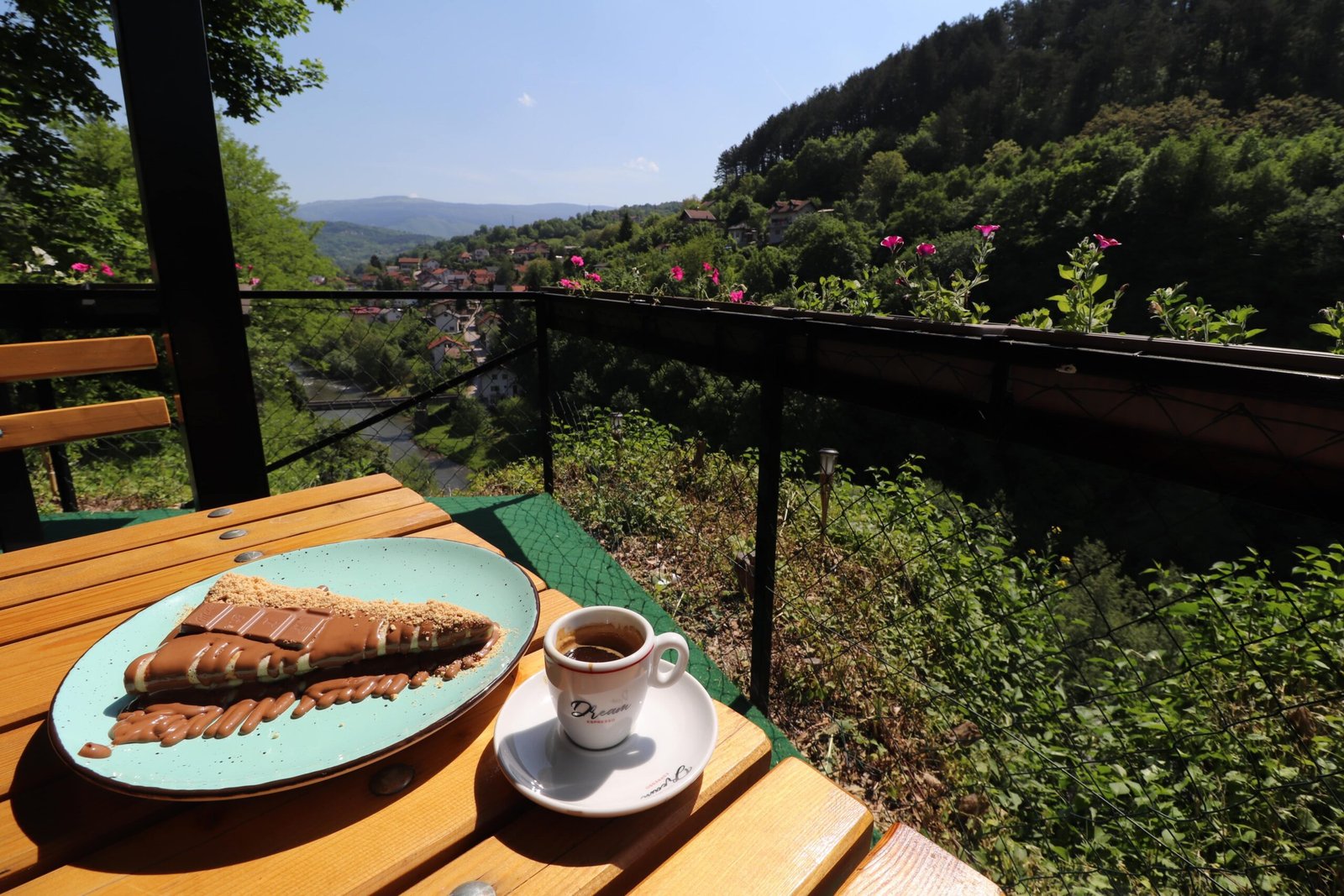 Have you been to Jajce? Is there anything else you would add?
I'd love to hear your thoughts, recommendations or questions.
Thanks for reading!